If you happen to be travelling through Cabrerolles in Languedoc in southern France…Wait, nobody just happens to be travelling through Cabrerolles.  For one thing, it's little more than a blip on the map; a hamlet, not even a full-fledged village.  For another, it's in the wine producing area of Faugères, which isn't close to anything.  And the roads to get there are small, winding and hilly.  If you go there, you mean to be there.
But the visit is worthwhile, because there you will find the tasting room of Château de la Liquière (http://www.chateaulaliquiere.com/new/index.php?option=com_content&view=article&id=112&catid=34&lang=uk) .  It cannot be said that la Liquière is well-known in the United States, but it is occasionally available.  We first encountered their wine, specifically their Les Amandiers label, on a restaurant wine list.  We enjoyed it so much that we decided to make the trek to Cabrerolles to taste their other wines.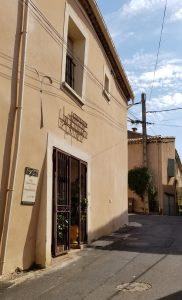 You drive across a valley where la Liquière has its vineyards.  As you pull into the hamlet on the main (basically the only) road, you'll see a sign pointing up a hill to the winery.  Park at that sign and walk 100 meters.  There you'll find a filigreed iron gate that welcomes you into a quaint tasting room.  If no one is there to greet you, just shout "Allo" and someone will descend from the office above to offer you a tasting.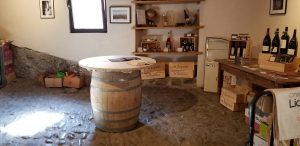 The tasting room is rather dark, with only one small window, and the floor is made of paving stones.  There is a small bar but you'll probably want to taste your wines at the barrel with a board on top of it.  La Liquière makes eleven wines – red, white and rosé – and you may find yourself confounded, as we were, when your server asks you, "What would you like to taste?"  You don't want to be piggy and say "all of them" nor is that safe.  So just shrug and indicate you'd like to know their best wines.  (They speak a little English, poorly.  If you can struggle through a little French as well, you'll be fine.)
We found that the wine we had drunk back home was near the bottom of their list.  The server was delighted that we had had the opportunity to try the Les Amandiers (available in all three colors) in America and told us that they had much better wines than that.  And indeed, two of la Liquière's reds are bold, tannic red wines made of Rhône grapes.  Their Cistus label is made of Syrah, Grenache, Mourvèdre and Carignan.  The top of the line, Tucade, is primarily Mourvèdre, with some Grenache and Carignan.  These are age-worthy wines and indeed the Tucade ought to be put down for some time before opening.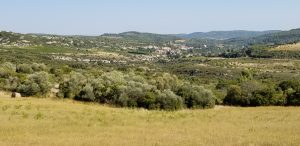 Like all Faugères wines, those at la Liquière are quite minerally.  This derives from the schist soil makes up the ground in the hills.  It's a taste that is distinctive and not to everyone's liking.  We do like it and we have found la Liquière to be among our favorites in Languedoc.  Also typical of the better wines in the region today, la Liquière's wines are "nature", the equivalent of organic.  If you want to learn about the wines of Faugères, la Liquière is worth the trip.