From a wine tasting perspective, Santa Barbara has a split personality.  Uptown is all elegant hotels, fine restaurants and well-appointed tasting rooms.  Downtown, near the Pacific Ocean, is what they call the Funk Zone, which is all, well, funk.  This is not to say that there isn't good wine to be had in the Funk Zone, just that the overall ambiance is not quite like anywhere else we have ever seen in Wine Country.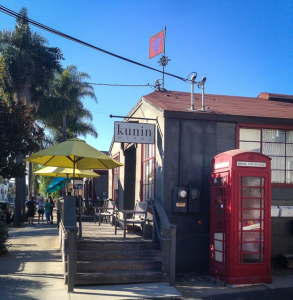 The Kunin tasting room in Santa Barbara's Funk Zone.  Photo courtesy of hotelcalifornian.com.
Right in the middle of the Funk Zone is Kunin Wines, which has identity crisis of its own.  Not a crisis, really; Kunin seems to be quite comfortable with its identity.  But it's a little different than other Santa Barbara wineries.  For one thing, perhaps the most important, there's the wine.  Santa Barbara is Pinot Noir and Chardonnay country.  Kunin primarily makes Rhône-style wines from grapes as diverse as Grenache (red and white), Syrah, Viognier, Mourvèdre, Cinsault, Roussanne and Counoise.  That's quite a selection for an American-owned winery in southern California.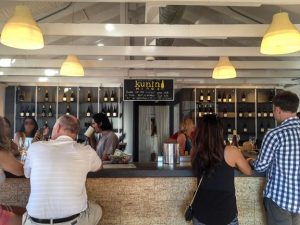 A quiet time at the bar at the Kunin tasting room.  Photo courtesy of Keepin' It Kind.
We've found that the servers are quite liberal with offering a variety of tastes if you show genuine interest, not just a desire for alcohol.  But then there's the matter of Kunin's identity crisis.  Up until around the lunch hour, visitors can sit at the bar, taste, discuss and enjoy in a thoughtful and unhurried manner.  But once the afternoon arrives, so do the partiers.  And we do mean PAR-TEE.
The tasting room is in a building of no particular architectural interest.  But there's a long front porch, a wide-open door and a large rectangular bar.   Just perfect for wine tasting near the beach.  And so later in the day it becomes packed – bar, porch and street front and the crowd didn't seem to be involved in a conversation on the relative merits of real Rhône wines and California varietals.
Now we have nothing against parties.  Who doesn't like a good party?  It's just that when we drink wine at a party, we expect it to be cold, wet and alcoholic, nothing more.  But Kunin makes serious wine and it's a shame not to enjoy it on its own terms.  Don't misunderstand; these are California Rhône-style wines, not imitation anything.  They cannot be confused with wine made in the south of France, nor should they be.
For example, Kunin makes two wines they call Pape Star and Pape Star Blonde.  They're meant to be a "versatile take on France's Châteauneuf-du-Pape".  A take, perhaps, but hardly to be confused with the real thing.  From our point of view, they would be better off calling these wines simply California Rhône Blends, both red and white.  Drinkers should appreciate them for what they are, not what they aren't.
We were several decades older than any other people in the tasting room and so maybe younger people will experience Kunin differently than we did.  Whatever your age, Kunin is worth a visit.