On a pleasant country road in Carneros, the southern end of Napa Valley, you'll find the Etude winery.  It is at the end of a long lane, in three buildings more evocative of New England than California.  It is surrounded by vines although not for the grapes that go into the wines you will taste there.
Etude is unusual in that they make top-end Pinot Noirs, thanks to Jon Priest, their winemaker, but not only from Carneros.  They produce Pinots from the Santa Rita Hills in Southern California, Willamette Valley in Oregon and as far away as New Zealand, all under the Etude label.  They are all very good, but our favorites are their estate wines from Carneros, especially Heirloom, their premium vineyard parcel.
Etude is distinctive in another way, as well.  They also make several highly rated Cabernet Sauvignons, all from the Napa Valley.  Generally, Cabernet houses don't do Burgundy grapes well and Pinot specialists can't quite seem to get their Cabs right.  Etude is one of the few to do both equally well.  Oh, yes, they have Chardonnay and Pinot Gris too, for white wine drinkers.
The tasting room is spacious, woody, well-lit and has an imposing wall of wines behind the bar.  There are tables and sitting areas inside and you can also have a seated tasting outside (for a charge).  Or just take your glass, walk around the yard or sit in some strategically placed lawn chairs.  We have found the servers to be rather knowledgeable and able to explain what is in your glass in such a way that you appreciate the wine a little more.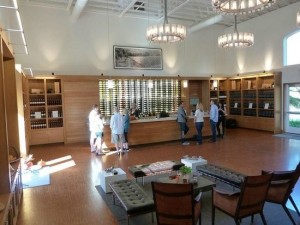 Photograph courtesy of justluxe.com
There is generally a convivial mood to tastings at Etude, fostered by the servers to be sure but also by the atmosphere of the winery.  More so than at many of the Napa Valley wineries further north on route 29, there is more of a feeling that you are in the country, surrounded by vines, where the focus is on the quality of the wines than on the imposing architecture or Fifth Avenue merchandise for sale.
A plus (and maybe a slight negative) is that Etude is one of the first high-quality wineries one finds driving north from San Francisco.  So if you don't have a lot of time for a Napa Valley visit, Etude and a few of its neighbors can make for a fast and easy trip.  The downside is that Etude is well-known both for its wines and as a destination, so a lot of groups arrive there.  If you can avoid weekends, particularly holiday weekends, you'll enjoy your visit to Etude all the more.
We have been members of Etude's wine club for many years and are happy to introduce you to it.  It's the sort of place that, if we were going to design a winery, it would be a lot like Etude.