There are times when we've been on a wine tasting trip that we're eager to do something else than tasting wine.  (Gasp!)  Often it's because we know we've had enough alcohol for one day, but sometimes it's just a desire to take advantage of other things that are of interest in the area we're visiting.  As with most Americans interested in wine tasting, we've been to California's Napa Valley more often than any other destination, which has led us from time to time to Bale's Mill.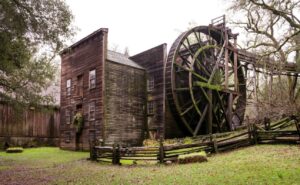 Bale's Mill, as it is today.  Photo courtesy of the Library of Congress.
The precise name is Bale Grist Mill State Historic Park, but we've never run into anyone who calls it by its full name.  The road signs don't, either.  It's located on Route 29 where St. Helena and Calistoga meet.  There's parking just off the highway and then you follow a trail through the woods until you reach the mill.  The trail is paved, so if you didn't wear your hiking shoes, you'll be all right.  And there are more than two miles of trails through the woods if you did come appropriately attired.
The mill has been there in one form or another since 1846, when that part of the world was called Mexico.  It was in actual use until the 1900's and has been retained and restored several times over the years.  The most recent renovation was only completed in 2020.
The mill was erected by a doctor named Edward Bale.  It was used by local farmers who brought their grain there to be ground into flour on the mill stones, which were powered by a large wheel driven by Mill Creek.  No doubt the mill came first and the name of the creek followed.  Bale had married into the Vallejo family that governed the region and when he died in 1849, his widow took over its operation.   Evidently she was a canny businesswoman and did quite well with it.
There are tours (with guides in historic dress) and milling demonstrations on the weekend.  School tours happen during the week, so you might have a troop of little visitors with you when you go.
There is an attraction to Bale's Mill for those whose primary purpose for being there is tasting wine.  Napa Valley was and is primarily an agricultural area (although tourism is rapidly catching up).  It's one thing to read about the history of the region and what has been grown there and quite another to see and experience it.  Bale's Mill is a trip into Napa Valley's past and in a way of the people who made it what it is today.
Before there were big corporations selling expensive bottles, there were farmers, many of whom were Italian immigrants who tilled the soil.  Yes, they planted vines to remind them of the homes they left behind but they had to eat more than grapes.  They grew wheat and corn and brought their produce to the widow Bale.  There was – and is – an elevator that carried the grain upstairs to be cleaned.  Then it was fed into the grindstones to make flour and cornmeal, which ultimately became bread.
All in all, Bale's Mill makes a fine diversion from a day of sipping wine, one with a lot of history to be discovered.