It is meaningful to say that you are visiting a specific area of Wine Country.  You don't say, "We're going to France for wine tasting".  It's too big and too varied, so you might say Bordeaux or Burgundy.  California is very large and varied as well, so you say Napa Valley or Sonoma County.  But if you say that you're going wine tasting in California's Central Coast, you're covering an area so vast that it's hard to say anything meaningful at all.
It's more than 300 miles from Santa Barbara to Alameda County, the southern and northern extremes of the Central Coast.  Some AVAs are well established; they've been making wine in and around Santa Barbara since the days of the Spanish colonization.  Other areas have only recently realized that excellent wine can be made from grapes grown on their soil.  For instance, there have only been vineyards in the Santa Lucia Highlands since the 1970's.  So let's take an abbreviated tour up the coast.
Santa Barbara is a delightful little city, with many excellent hotels and restaurants. There's no wine grown inside the city limits, of course, but many excellent wineries have tasting rooms there.  Many of the wines come from the nearby Santa Rita Hills.  Pinot Noir is THE grape of this area. (Chardonnay is grown everywhere on the Central Coast.)  We've been particularly impressed with Sanford and Au Bon Climat.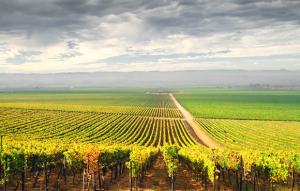 The Bien Nacido vineyard in the Santa Maria Valley is renowned for its Pinot Noirs.  Photo courtesy of the Santa maria estate.
A little further north is what we consider to be the heart of the Central Coast, around Los Olivos and Santa Maria. These were relatively quiet little backwaters until they were popularized by the movie Sideways.  Even so, until recently they were rather bucolic but have recently become somewhat more "Napa-fied", to coin a phrase.  Still, there are many excellent wineries to visit and wines to sample.  Favorites of ours are Foxen and Beckman.  Pinot Noir and Syrah are the leading grapes.
The San Luis Obispo region is coming on quickly, both in terms of the quality of the wines and its popularity for visitors. But SLO is not close to any of California's major population centers.  For example, it's four hours drive from San Francisco; the problem with hidden treasures is that they're hidden.  We've enjoyed wines from Alban and Laetitia.  Pinot Noir is strong here but Rhône style wines are really the San Luis Obispo success story.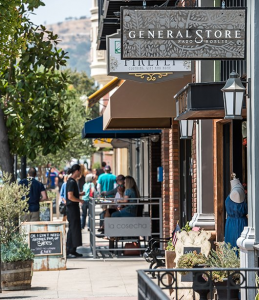 Downtown Paso Robles has become quite trendy.  Photo courtesy of pasoroblesdownton.org.
Paso Robles is far enough from San Francisco to be far and close enough for a visit to be feasible. The west side of Route 101 is known for very large commercial wineries.  The east side is hillier and home to many artisanal winemakers.  Tablas Creek (our favorite) introduced Rhône grapes to the region, but Paso Robles is still known for powerful Zinfandels.
There are some wineries to visit in the Santa Lucia Highlands, but most of the tasting is in Monterey. Look for robust Pinot Noirs here, such as Hahn or Pisani.  The beauty of the overall scenery around Monterey is world famous.
Finally, in the area around Silicon Valley you'll find quite a few wineries, but not as many that earn top marks. What was once fruit trees, ranches and vineyards is now mostly office buildings where the world's technology is invented.  Nonetheless, we were delighted to discover the Pinot Noirs of Testarossa in this area.