Power Tasting does not review restaurants.  This article is about a restaurant, but it's not about the food, the drinks or the service but rather a special restaurant as a destination in itself.
Mustards Grill has been sitting alongside Route 29 in Yountville since 1983.  It was opened by Cindy Pawlcyn back then as a self-described "deluxe truckstop".   We've been to truckstops, and that's not what Mustards is.  Truckstops have big rigs in the parking lot, showers, and large persons more intent on nourishment and a quick getaway than on fine dining.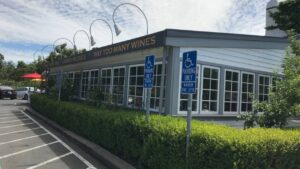 Photo Courtesy of Open Table.
What Mustards is and always has been is a roadhouse, a great American throwback, and that's what makes it a Place to Visit.  If you feel as though you've heard of roadhouses, that's probably because you came across the term in the works of F. Scott Fitzgerald, who was the ultimate chronicler of an emergent upper middle class in the 1920's, now a century past.
A roadhouse was a drinking and dining establishment in the rapidly changing outskirts of major cities.  The boys had come marching home from World War I and having seen Gay Paree wanted no more of life on the farm.  Prospering in the post-war boom, they had snazzy roadsters and straw boaters and wanted to get out of town and have a good time.  The girls of the time were no less eager, with their bobbed hair and turned down hose.  Roadhouses spring up to meet a market demand.
Which brings us to Mustards.  Napa Valley was making some pretty fine wine in 1983, but once the sun went down, there was no place of any quality to get a meal or a drink.  Like the soon-to-be-suburbs of the 1920's, Napa was changing its identity from a rural sector not too far from San Francisco into a winemaking (and tasting) mecca.  Ms. Pawlcyn started Mustards to meet a latter-day market demand for a simple place with not so simple food and lots of wine.  (It's also worth visiting for its vegetable gardens, which we addressed in a previous article – still worth reading.)
She tipped her intentions on the side of the building, announcing that steaks, chops, ribs and "way too many wines" are to be had within.  From that day to this, Mustards has kept its promise.
There was a seamy side to roadhouses back when, including dancing flappers , gambling, bar fights and prostitution.  None of that is present at Mustards, of course, but for out-of-town visitors there is a sense that you've happened upon something only the insiders know about, something like a speakeasy (the urban equivalent of a roadhouse).  That's because you're as likely to be dining at a table next to locals and winemakers as other tourists.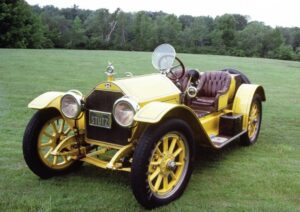 A Stutz Bearcat.  Photo courtesy of Wikipedia.
We always drive up to Mustards in a car we rented at the airport.  Please excuse us if we pretend that we're in a Stutz Bearcat, the quintessential roadster, wearing racoon coats.  We've been stopping at this bit of Americana through all the years of its existence and we can't thinking of being in Napa Valley without going there.