Powertasting.com is about going wine tasting, not about wine itself. So here are some recommendations that have nothing to do with wine at all. All the wineries mentioned in this post are great for the beautiful views you can have on a nice clear day, which in California is most of them. Some have wine we like, some don't. But all of them are worth a visit just to look at the scenery.
Domaine Carneros, in the district of the same name, is an imitation French chateau, largely because it is owned by Taittinger, the French champagne house. You approach the chateau up an elegant stairway, and you can sit on the terrace where they offer you champagne and pinot noir. From there you can see a panoramic vista of the Napa side of the Carneros region.
Across the valley and up a fairly steep hill is Artesa, a monumental building carved into the hillside with a row of fountains to greet you as you enter. It's also owned by a maker of European sparkling wine, Codorniu of Spain, but there's no homage to the Old World here. What there is a grand view of Carneros, with Domaine Carneros off in the distance.
In Russian River, just south of Dry Creek, Rochioli has a patio just above their vineyards and those of many other growers way off to the left and right. They are best known for their pinot noirs, which you can sip contentedly watching the next harvest growing just below you.
Rutherford Hill is best known for their merlots, especially the reserve. It is located just off the Silverado Trail in (no surprise) Rutherford and it commands majestic views across that town's vineyards. It has a large picnic area, which they  to use. But they give you several bottles of wine for your money.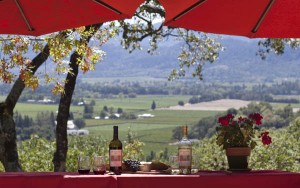 Photo courtesy of Rutherford Hill's web site, http://www.rutherfordhill.com/Picnic
In St. Helena there is Rombauer, also along the Silverado Trail. (Route 29, on the other side of the valley, is in a flatland and thus offers no great views.) Rombauer is an "old-school" Napa Valley winery, in that it is just a tasting room in a rather rustic cabin, not a grand temple as some have become. You can look across the valley from their gardens, which also have some picnic tables.
At the northern end of Dry Creek, you can visit Sbragia Family Vineyards. You can look all the way down the Dry Creek region from their capacious, shady porch. Ed Sbragia gained fame as the winemaker at Beringer until he opened his own winery. Sitting on his patio, you get the sense that this is exactly where he always wanted to be.
William Hill winery on Atlas Peak Road in Napa has a spectacular view of the valley. On specific dates in the summer, you can bring your picnic dinner, buy a bottle of their wine and enjoy the sunset comfortably seated on an Adirondack chair or at a table under a gazebo overlooking the hills of Napa Valley. The rest of the year, you still can sit there and enjoy the view while you're tasting their wines.
Some wineries offer spectacular views and other wineries offer the view of their vineyard. One of those latter is Lucie's favorite, Duckhorn Vineyards in St Helena. The building itself is a gorgeous country house with a porch all around, situated in the middle of their vineyards. A dream place for Lucie. One can never get tired of that beautiful view.