When you are out wine-tasting, lunch is a necessity.  Don't even think of sipping wine on an empty stomach.  Breakfast is important too, but the morning meal does not lend itself to lazy luxuriating quite as much as does lunch.  One thing that almost all wine-making regions have in common is the availability of superb cuisine.  Why travel all that way to Wine Country and deny yourself the pleasure of a leisurely meal at midday?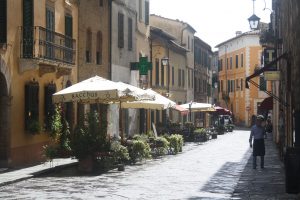 Caffés in Montalcino.
In Europe, you have no choice.  On that enlightened continent, a two-hour work stoppage is de rigeur, as they say over there.  So you pull into a town or stop at a French café (or an Italian caffé) surrounded by vines and do like the locals do.  We can't open a bottle of Brunello without thinking of warm afternoons on the piazzas of Montalcino.  The same goes for St. Emilion, Greve in Chianti and Chateauneuf de Pape.
When visiting California's sections of Wine Country, you have the option to gulp down a Big Mac and keep on tasting.  We Americans are all go-go-go and that does have some business advantage.  But if you are on a wine tasting trip, you're not there on business (unless you're a distributor).  Just because you can try three wineries between noon and 2:00 doesn't mean that you should.  Not when the bistros of Calistoga, Healdsburg, Paso Robles or Santa Barbara are calling out to you.
It's all a matter of attitude.  If you just happen to be passing through and you only have a little while available to you, then eat something quickly and then stop by at a winery or two.  But have you ever just happened to be passing through Yountville?  Or Pauillac?
Another argument is that wine tasting should be about wine and a fancy lunch is just an unnecessary use of your mouth.  If your objective is just to taste as much wine as you can in as short a time as possible – a highly dangerous goal – you're better off picking up a few bottles at the store and staying home.  For us, at any rate, a large part of the reason to go wine tasting is to be in Wine Country, to soak it all in (not just drink it all in).  And that means eating lunch where the locals go.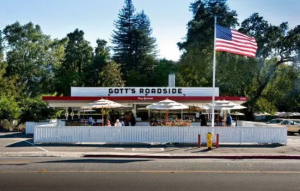 Photo courtesy of the (San Jose) Mercury News.
You'll never dine anywhere where there are no tourists, but there are many places where you can sit with people from the neighborhood and from the wineries.  That doesn't necessarily mean white tablecloths and fine fare.  For example, if you're tasting in St. Helena, there are few places that scream WINE COUNTRY like the original Gott's Roadside.  Oh, there are all the attributes of the fancy places, such as locavore purveyors and Ahi tuna, but at the end of the day, it's about the burgers.  And if you want some wine, Joel Gott makes that too.
The point is that you should make a good lunch a part of your wine tasting adventure, not a diversion from it.  Be careful how much you drink with lunch if you're going to keep tasting all afternoon, but remember wine was made to go with food.