We were only in Croatia for a few days, as part of a longer trip.  We did not have the time nor the means of transportation to visit wineries, which we would certainly have done if the purpose of our visit was wine tasting.  As it was, we were simply tourists in Dubrovnik, but we did want to take advantage of being there to learn as much as we could about Croatian wines.
Normally, we wouldn't write about wine tasting in a region without actually seeing the vineyards and speaking with the people who make the wine.  But as there is hardly any wine exported from Croatia, we thought it would be a good idea to share what we learned with Power Tasting readers.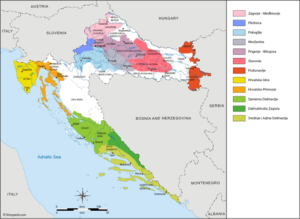 Croatian wine regions.  Map courtesy of Vineyards.com.
A few notable facts:
Wine has been produced in Croatia for thousands of years, going back to the time when the eastern Adriatic coast was settled by ancient Greek settlers. The mountainous geography and the Mediterranean climate has long made Croatia an ideal place to grow grapes.
Wine is made all over the country, from the Dalmatian coast in the south, Istria in the west, to the eastern highlands and the region along the Danube.
The Croatians make wine from grapes we've never heard of. And they taste unlike any wines we've ever sipped.
The dominant red wine grape is Plavac Mali, pronounced "Plavass Molly".  It produces a dark, intense wine, which we would categorize with Merlot.  It can be a little rough around the edges, but that may have more to do with the limited production facilities in Croatia.  There are no large producers, just small vineyards making wine for their neighbors and fellow countrymen.  So what we call "rough" they might term "honest".  And to be fair, we did taste a number of Plavac Mali that went down smoothly.
We tasted two white wines from a variety of producers.  They were called almost the same thing, but what a difference a single letter can make.  Malvazia, with a z, (also sometimes spelled Malvazija) comes from Istria, the Croatian province not very far from the Friuli-Venezia Giulia region of Italy, which is best known for Soave.  But the Istrian wine is much fruitier, with hints of honey and honeysuckle.  From what we saw of restaurants and wine bars in Dubrovnik, it's the most popular white wine there.
In the south, quite near to Dubrovnik, they grow Malvasia, with an s.  This is the same grape used to make Malmsey Madeira, a luscious dessert wine.  But the Croatian version is quite different.  These white wines are austere (in the same vein as Chablis), acidic and distinctively perfumed.  They go well with shellfish, much like a Sancerre, but are not especially good wines for sipping on a pleasant sunny afternoon along the beachfront.
Sadly, with rare exception, you won't find Croatian wines in the United States, which is a shame.  There are a few stores in New York that carry a few bottles, but that's about it.  The production at individual vineyards is too small to attract many American importers and the wines are too unknown to make a large place on wine store shelves.  These are wines worth getting to know and we recommend that travelers to Croatia make time for them.