For most people, travelling to Wine Country is a trip, one that often involves a flight and a rather lengthy drive.  If you're going to go through all that, you surely want to justify your exertions by visiting several wineries, if only to get a feel for what that region can make.  However, some fortunate people live close enough to a wine-producing area that they can spend a few hours wine tasting whenever they want.  Or they can just stop by a winery for an easygoing half-hour or so, with some nice wine to add to the pleasure.
If you happen to be among those happy few, you may already have taken advantage of nearby wineries.  We have met some people in our wine tasting adventures who have told us that they live so close that they often hop on their bikes and come over on particularly pleasant weekend afternoons for a taste or two.
As residents of New York City, we can't take advantage of "just stopping by" wine tasting.  Even a trip to Long Island's North Fork entails at least two hours on the expressway.  But on a few occasions, we have had the chance to be the "locals".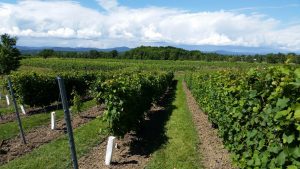 A vineyard in the Île d'Orleans.
We have a home in Québec City, which is a fairly populous metropolis.  But it's also only minutes away from the Île d'Orleans, which is unquestionably countryside, the source of much of the fruits and vegetables for the city.  It is also the home to a half dozen wineries.  Many a summer weekend we drive over to the island in the middle of the St. Lawrence River to buy corn and tomatoes or just to breath some rustic air.  It's no big deal for us to stop by and try a glass or two at one of the wineries.  To be honest, none of the table wines are particularly notable, but some of the ice wines (it gets awfully icy in Québec) are quite good.
Etude Winery.  Photo courtesy of the winery.
A few years ago, business required us to spend a few months living in Sacramento, only an hour from Napa Valley in one direction and Amador County in the other.  There were of course some weekends when we visited multiple wineries, with others when had non-wine reasons to be in Napa Town.  The road back to Sacramento took us right by Etude Winery, one of our favorites, where we are members of their wine club.  The servers became used to us stopping by for a few pours of their top wines, which we enjoyed in big Adirondack chairs on their terrace.
Finally, we once took a lengthy vacation in the Languedoc.  When it was market day in the village of St. Chinian, we'd drive in for our pain and fromage. And as long as we were there, why not stop by a winery?
If you are or ever will be that close to Wine Country, make sure you just stop by a vineyard or two.