There are plenty of wine stores in Manhattan and no lack of specialty food stores either.  But Di Palo's Fine Foods on Grand Street and Enoteca Di Palo next door are something special.
There is a long and wonderful history for the food store.  Starting in 1903 as a store for dairy products, the store is run by the fourth generation with the fifth working there as well.  Aside from the wonderful smell of cheeses, dried meats, sausages and prepared Italian specialties, Di Palo's exudes a sense of place and time.  This is Little Italy, now greatly reduced in size from its height in in the first half of the 20th century, still alive and real, even considering the incursions of New York's Chinatown.  The three Di Palo's (Lou, Sal and Marie) preside behind the counter over an empire of foods that are uniquely chosen in their many journeys back to Italy.
Sure, you can buy prosciutto and mozzarella elsewhere.  But where else is the mozzarella made every day in the back of the store?  You can see them bringing out trays of freshly made balls all day long.  The sheer amount of prosciutto sold here ensures that what you buy will definitely be fresh.  And in case there was any question, they will always give you a slice up front.  In Lou's book, Di Palo's Guide to the Essential Foods of Italy: 100 Years of Wisdom and Stories from Behind the Counter, he writes that it's only fair to give the customer a chance to taste before he or she buys.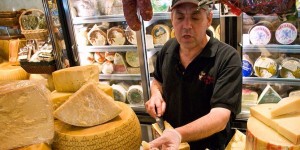 Lou di Palo giving a customer a bit of Piave cheese (Photo courtesy of dipalos.com)
What differentiates Di Palo's is the connection they have established between the Old World and the New.  The members of the family are acquainted not only with the major producers but also – and especially – with the farms that keep the old traditions alive in their food in a way that only individual hand crafting can achieve.  You sense that the Di Palo's know not only every farmer in Italy, they know every cow!
So here you find speck from the Alto Adige; pecorino cheese from a specific dairy in the hills outside of Florence; truffled cheeses from Tuscany and Sicily; select olive oil from the Musso family in Sicily; balsamic vinegar from Giusti, the oldest in Modena; Spinosi pasta, well worth waiting for; ravioli made not by the Di Palo's but by a cousin…and on and on.  Every few weeks, whenever it's a good day for a walk or if we're running out of parmigiana, we go for an Italian or a Chinese lunch and a pilgrimage to Di Palo's.
And when we buy what we want, we always ask Lou, "What wine should we drink with this?"  For Lou's son Sam has opened a wine shop adjoining the specialty store.  Again, you won't find the big producers here, no Bolla or Frescobaldi or Antinori.  In their place are unusual finds like La Salette, Filinona and Tiburzi.  You may not always think these are the best but the selection is certainly the most unique.
They often host wine tastings at Enoteca Di Palo, where you get a chance to meet the owner/winemaker of what you are sipping.  For example, they just held a tasting of wines from the Colli Orientale of Friuli, where Giorgio Colutta poured wines from his vineyard.  We don't know Friuli very well nor Signore Colutta's wines but that's exactly the point.  Here you get a chance not only to taste and buy wine but to get an education in Italian wine, which was certainly the case for us.  Our appreciation for the wines of Italy came late and was largely gained by the tips we got at Di Palo's.