Almost as far north as you can go and still be in Napa Valley sits the Château Montelena Winery.  It's in Calistoga and it has been there for a long time, though not always as an active winery.  It was established in 1882 by one Alfred Tubbs and to this day Château Montelena is located on Tubbs Lane (which unfortunately gave its name to the disastrous Tubbs fire in 2017).  The current history of the winery begins with the acquisition of the property, then in disuse, by Jim Barrett in the early 1970's.  He was one of the winemaking pioneers who led the renaissance of Napa Valley at that time.
It is fair to say that Château Montelena was the original Napa Palace.  Palatial it is and was designed to be by Mr. Tubbs.  Legend has it that he imported architects and stonemasons from France to build his château.  It has been a working winery, a private home and now a tasting room.  This pseudo-Gothic masterpiece is certainly a reason in itself for visiting Château Montelena, but it is only one of the attractions there.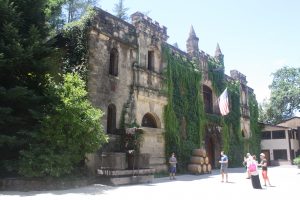 In a period when the château was a private home, beginning in the 1950s, the then owners created magnificent gardens in a Chinese style.  Today they are called Jade Lake and are a sanctuary for a variety of fish and wildlife.  Visitors are welcome to wander in the gardens and on a beautiful day, even with fellow tourists alongside, it is a source of peace and restfulness.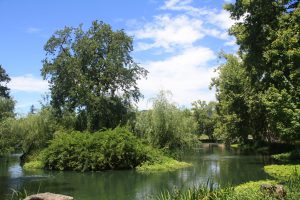 Oh yes, and they make wine.  Oh boy, do they ever.  For one thing, they were the winner in the Chardonnay category of the storied Judgment of Paris wine tasting in France in 1976.  They don't let you forget this fact at Château Montelena; George Tauber's famous book on the event is prominently displayed throughout the tasting room.
Not to take anything away from the current releases of their Chardonnay, we are more enamored of their reds, especially the Estate Cabernet Sauvignon.  They also make a Zinfandel that we have quite enjoyed in the past.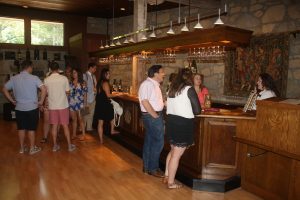 The main tasting room is an attractive stone and wood space, with a long bar and ample space for quite a few visitors.  There is also a secondary area used on busy days at the winery.  The servers have always seemed knowledgeable about Château Montelena's wines although on occasion we have found a few of the servers to be a bit haughty.  For the most part, even on weekends, they seem eager to inform you as well as to pour wine for you.
Now, Power Tasting is not in the business of reviewing wines themselves.  We are all about the experience of going wine tasting.  That said, it is rare to find a winery that offers the combination of top-tier wines along with natural and architectural beauty.  It may take a little while longer to get up to Calistoga from San Francisco, but for anyone seriously interested in knowing the history and quality of California winemaking, a visit to Château Montelena is a must.