This story begins in the province of Québec and ends in France.  About a year ago, a friend in Québec City told us about a great value for an inexpensive champagne she had tasted and liked very much.  It was called Tribaut and it only cost 40 Canadian dollars or roughly 30 American.  We tried it and liked it very much and have been buying it since then. So when we took a recent wine tasting trip to the Champagne region of France, we made a special point of visiting their winery.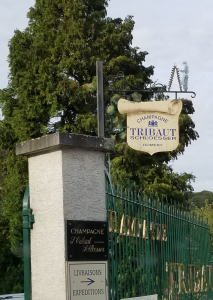 The Champagne wine trade is concentrated in two cities, Reims and Epernay.  But the Champagne region is quite large and there are thousands of wineries there.  Many of them are small producers located in countryside villages.  So we did the usual 21st century thing and looked up Tribaut on the web, got their address and used Google Maps to lead us there.  Unfortunately, that led us to a winery called G. Tribaut in the village of Hautvilliers.  When we realized we were not at the place that we were looking for, they were kind enough to point us to Tribaut-Schlosser, not far away in Romery. Fortunately, the scenery in between was gorgeous. We were there during the vendanges (harvest) and were able to see the workers in the vineyards hand-picking the grapes, which we had the pleasure of tasting directly from the vine.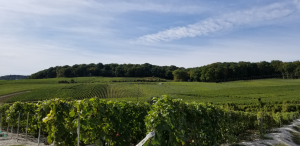 Between Hautvilliers and Romery
On arrival, we found a pretty house but hardly what we Americans think of as a major winery when we go wine tasting.  Tribaut-Schlosser is hardly small – they produce 350,000 bottles each year – but they are tiny compared with grandes maisons like Moet & Chandon or Taittinger.  Still, everything is low key at Tribaut-Schlosser.  When we entered, we found an empty reception area. We called out to see if anyone was there and a woman came down to greet us.  She was pleased to offer us a dégustation, since evidently they don't receive many visitors who just happen to be passing through Romery.
Tribaut-Schlosser makes an impressive number of Champagnes.  Their basic offering, Origine, is an Assemblage (in this case, 50% Pinot Meunier, 30% Chardonnay and 20% Pinot Noir).  Their Blanc de Blanc (which they call Blanc de Champagne) is the one we had tasted in Québec.  There's also a rosé, a Blanc de Noir and a tête du cuvée they call Cuvée René.  They also have two limited edition Champagnes, a brut and a rosé they refer to as Les Cuvées Authentique which we did not try.  After a pretty thorough tasting, we found we preferred the Blanc de Champagne that we were already familiar with and which is available in Québec.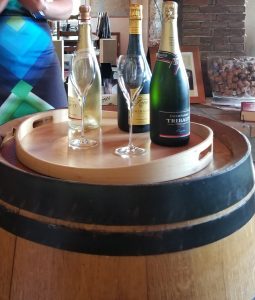 Even though they were all so busy with the harvest, we were treated like visiting royalty.  We were seated in a cozy tasting room, more like someone's living room, on a sofa in front of a barrel that served as a cocktail table.  Our host thought nothing of opening bottle after bottle; she didn't want us to sample any wines that had already been opened.  The assistant winemaker stopped by as did a member of the Tribaut family.  (It seems that a Tribaut ancestor married a Schlosser back in the early 20th century.)  They were all so charming, it was as though we had dropped in on old friends.
You're really going to have to drive a bit to find Champagne Tribaut-Schlosser.  But we certainly found it worth the effort.