Like everyone else, we're staying home. Yes, we go out for walks around the neighborhood and in the park across the street.  But there are still too many people about and not enough of them are wearing masks.  So mostly we're indoors.  Here are some wine-related activities we're engaging in (different than usual in some respects) that you might be doing as well.  And please send your ideas for other blues-chasers to lgsjr@powertasting.com or leave a comment here.
Zoom happy hours Since we can't get together with friends, we do it virtually. We held a Passover-commencing event, with red wine in hand.  A few days later, it was an Easter family gathering (in French) with a Champagne toast.   We all wondered why we didn't do that more often.  We're setting up two-on-two happy hours now with friends far and wide.  Yes, we know all about the potential security problems with Zoom, but we haven't experienced them.  If Beijing wants to listen in to our friendly conversations, we can live with that.
Raiding the stash We suppose that most Power Tasting readers always have some wine at home and they've put aside a few bottles that they consider "special occasion" wine. With Passover and Easter in the past month, there were a few occasions that were indeed special.  But then there were evenings that were, well, just Tuesdays or Thursdays.  We'd make a little nicer meal and open one of those stashed-away bottles.  It's hard to feel celebratory these days, but a great wine does dull the pain.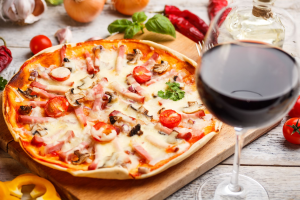 Photo courtesy of The Spruce Eats
Pizza night We sorely miss going to restaurants, and we bet you do, too. A lot of our favorites said they'd be open for pickup and delivery. That doesn't seem to be working out too well for them, so they've stopped.  But pizzerias have always had a delivery business, so some but not all are still going.  We've been ordering on Friday evenings.  Some of the pizza places in our neighborhood have wine as well, so we order from them, if only to help their revenue a bit more.  One had a pretty good Nero d'Avola, so we bought a few extra bottles before they stopped delivering.  Another had a pretty poor Primitivo; we'll stick with our own wine the next time.
Having an occasional digestif Cognac and Armagnac are wines, so to speak, if you push the boundaries of drinks made from grapes rather far. Whiskey and Rum would be wine if grapes grew where they make these liquors.
Ordering more The California wineries depend heavily on tasting room traffic for their profitability. Without us wine tasters stopping by, they're not doing as well.  We're getting a lot of sales phone calls from our wine clubs, and even from some wineries we have visited but are not members.  We're doing our bit by joining another club and buying a bit more than usual.