The Champagne region of France has two principal cities: Reims and Épernay.  The former is of greater interest to tourists, with its grand cathedral and quite a few top-quality Champagne houses.  But Épernay is a wonderland for wine tasters.  There are so many producers, great names and small, all over the town.  And the center of it all is the Avenue de Champagne, a mile of mansions and industrial buildings dedicated to the production, sale and consumption of the world's best bubbly, made from grapes grown in the chalky soil of Champagne.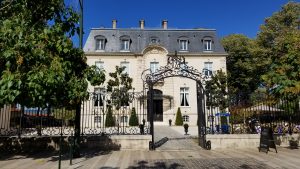 You can walk along the Avenue de Champagne, stopping here and there for a dégustation (tasting).  These aren't the sips we Americans are used to when we go wine tasting.  Oh no, you get a whole flute of Champagne, usually for around ten euros or so.  When you do take that walk, we recommend that you stop at the Venoge Mansion (www.champagnedevenoge.com/en).  This elegant building is representative of both the grandeur and the pretentiousness of Champagne.
The grandeur is easy to see…it's all around you in Épernay.  You're supposed to be impressed by the ancient lineages of these winemaking establishments, but most only go back to the entrepreneurs of the 19th century.  De Venoge was founded by a Swiss immigrant who started his company in 1837.  That's pretty ancient for Americans but its Johnny-come-lately for the French.  And although the "de" in the name sounds like nobility, it isn't in this case.  The mansion was built in 1900, but de Venoge only acquired it in 2015.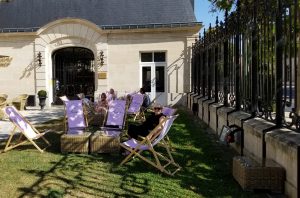 None of this history matters to you as a wine-tasting visitor.  You want elegance, both in your surroundings and in your glass.  And this is where de Venoge lives up to your hopes and expectations.  The setting is a mansion inside high wrought iron fences.  The building is in a park, most of which is behind it.  But there's a courtyard in front with a bit of lawn and on the grass there are comfortable lawn chairs and umbrellas.  In one of the outbuildings, there's a bar where you order the Champagne you want to drink and a server brings it to you as you stretch out on your lounger.  Turn your back on the street and you're out in the country, sipping Champagne at a château on a sunny afternoon.  This is why you became a wine taster and this is why you went to Épernay to taste wine.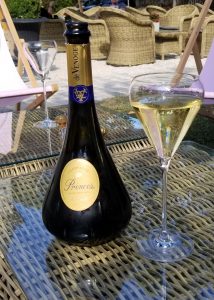 The wines themselves are quite enjoyable.  We found we preferred the blanc de noirs in de Venoge's better tier of wines, which they call Princes.  (They also have a top of the line they call Louis XV, but we didn't taste those wines.)
For the overall experience of wine tasting, de Venoge offers one of the best opportunities we have encountered in Champagne.  The wines are good but no better than many others available nearby.  Of course, that's the genius of wine tasting in Champagne. They're all good; some are just better.  But you feel like you're luxuriating at de Venoge and that's worth a lot when you're in this famous corner of Wine Country.