There are sections of Wine Country that we return to over and over: California, France, Italy, Long Island among them.  We suspect that many wine tasting enthusiasts focus on these and other popular destinations.  And then there are the wine making areas that are near cities where life just happens to take us.  It has been many years since we visited Australia's Barossa Valley, because we had some work in nearby Adelaide, only 45 minutes away.  We're sure that much has changed in the interim, but some things have remained the same.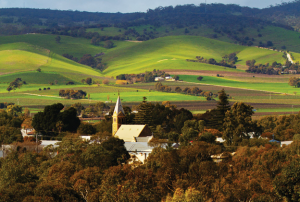 The Barossa Valley, among the most beautiful wine-producing regions in the world.  Photo courtesy of TrailHopper
We are certain that they still drive on the left side of the road, with the steering wheel on the right side of the car.  If driving while wine tasting concerns you, then doing everything backwards won't ease your worries.  Maybe this is the occasion to take a tour. (We were hosted and chauffeured by a business colleague, so as they say there, "No worries, mate".)
A distinctive feature of the Barossa Valley is its German heritage.  Many of the wineries there sport Germanic names and a lot of the restaurants are the wurst places to go.  (Sorry about that.)  Of course, there are many people of British extraction there as well.
Barossa is famous for one grape: Shiraz.  Yes, it's called Syrah in France and America, but Aussie Shiraz is really distinctive.  The first time we were served it by Australian friends, we thought the wine had gone bad.  Then we realized it was just different from anything we'd ever tasted before.  Of course, Australian wines are better known these days but be prepared for some eye (and mouth) opening experiences.
Wine tasting in Barossa is familiar to many Americans.  The people are friendly and welcoming and if possible even more casual than the servers in Sonoma or Paumanok.  Being Australian, they are hearty and bold, and the same can be said of their wines.  If you like power hitters, you'll be in heaven here.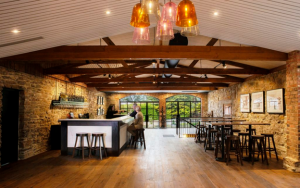 The Henschke winery tasting room.  Photo courtesy of the winery.
They are intensely proud of their wines, as they should be.  Their wineries were little known outside Australia when we were there but wines from Seppelt, Peter Lehmann, Torbreck and Wolf Blass (note all the German names) can be found in wine stores around the world.  Of course, what we get at home are the mass production wines.  You can taste some of the rather spectacular wines they keep for themselves if you visit Barossa.
Two Barossa wines can hold their own with the best in the world.  The most famous is Penfolds Grange.  Even greater, to our taste, is Henschke's Hill of Grace. These are massive wines, 100% Shiraz and sought after by wine lovers everywhere.  Of course, they come at quite a price, north of $650 American dollars at the winery.  To give an idea how long ago we visited the Barossa Valley, we were able to pick up bottles of both at $25 American dollars, equivalent to $63 today.  Here's to the memories.