The way that California allocates postal addresses, a great wide swath of the northern end of Dry Creek Valley is officially listed as Geyserville.  So such redoubtable wineries as David Coffaro, Dutchers Crossing and Sbragia Family all have addresses there, even though they are far from "downtown" Geyserville.  The quote marks are used because the actual downtown area on Geyserville Avenue is only about two blocks long.
We would not recommend Geyserville as a destination on its own merits, but if you are tasting in the area, there is a certain charm that's worth taking in.  While the town contains all the modern appurtenances, there's still enough left of ol' time Geyserville to give you an idea of what Sonoma County's Wine Country used to be.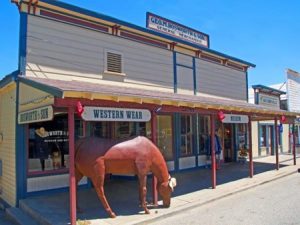 Photo courtesy of Sonoma County Tourism
The most notable taste of the past is a store with a large sign proclaiming it to be Geo. M. Bosworth & Son, General Merchandise.  There's another sign in the window that lets you know that they sell Gents' Furnishings and Notions.  This is the general store you've read about and seen in old Westerns and if you're in the market for a cowboy hat this is the place for you.  And if you want that hat to be custom crushed, they'll do that, too.  Today, Bosworth & Son is also a museum and a gift shop and there's a statue of a horse out front.
There are a few tasting rooms on Geyserville Avenue, among them Meeker and Pech Merle.  Three in particular stand out.  Tonti Family and Etrusca share a tasting room and call themselves Duo Vini I Bocce.  That's right – you can taste their wines and play bocce.  Further down the avenue is Ramazotti.  Together, they are a reminder that this area (all of Napa/Noma, actually) was settled in the 19th and early 20th centuries by Italian immigrants. They brought with them a winemaking tradition and replanted it in Northern California soil.  Ramazotti in particular features Italian wines such as Barbera and Sangiovese that are quite convincing reproductions of the Italian originals.  These wineries provide visitors with another hint of California history.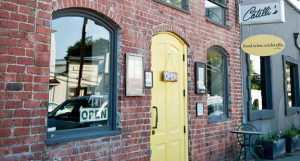 Photo courtesy of mycatellis.com
We first started coming to Geyserville to dine in a restaurant called Santi.  The food was remarkably good and the restaurant was recommended to us by many winemakers.  Alas, it closed more than a decade ago; another restaurant named Catelli's occupies the same place, and we have not tried it yet.  But here's the back story:  There was another Catelli's "the Rex" that was opened in 1936 by Santi and Virginia Catelli.  The owners, Nick and Domenica Catelli are lineal descendants of the original founders. More history!