There are few wineries in California with more history than Beaulieu Vineyard, familiarly known as BV. Georges de Latour, a Frenchman, established his holdings in Rutherford at the turn of the previous century.  He had the foresight to obtain a license to make sacramental wine, so that when Prohibition came into effect in 1919 and almost all other wineries had to close, BV was still operating, sending bottles to churches across the country.  If a few found their way to a restaurant or a speakeasy, what could Mr. de Latour do about it, eh?
Critically for the California wine industry, in 1938 he induced a famed French winemaker, Andre Tchellichef ("The Maestro") to be BV's winemaker, which he was for 30 years.  In his time at the helm, Tchellichef bottled the wine that the de Latour family was keeping for its own use and sold it commercially.  It was one of the first signs of the possibilities of California winemaking.  To this day that wine, the Georges de Latour Private Reserve, is the top of the line at BV and one of the most sought after Napa Valley wines.  If you visit the winery, you can taste it (including well aged versions of this wine).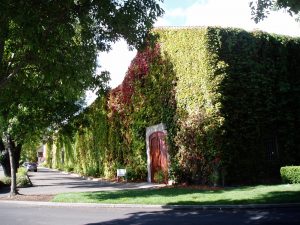 As with all Napa Valley wineries during the pandemic, tastings are served outdoors.  In the past and we're sure again in the (near?) future, there are two wine tasting experiences at BV.  As you enter the property, there's a modern building on your right and a vine-covered old stone building on your left.  There, you can taste BV's copious selection of widely available commercial wines.  The stone building is where you can taste their finer wines.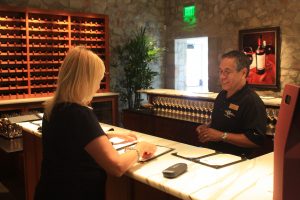 The lights are kept low in their reserve tasting room, perhaps to give the impression of a church (remember those altar wines) or a fine restaurant.  The room is not very large, but they have other facilities in the building if they get crowds.  The servers are, for the most part, quite knowledgeable about BV's wines and wine in general.
The first pour will usually be a Chardonnay but BV has built its reputation on Cabernet Sauvignon.  They have quite a few Cabs at different price points.  We have always been fond of their Bordeaux blend that they call Tapestry.  Like many Napa Valley wineries, BV is experimenting with different, non-traditional grapes.  Today they make a Cabernet/Syrah with a nod to Australia and a Touriga Nacional from Portugal.  We have found that if they're not too busy and you show a proper appreciation of the wines, the servers will find some gems just below the bar.
Depending on what they're serving that day, you may get a pour from one of BV's original vineyards or some single clone wines that are quite unique.  If you want to taste the George de Latour, they'll charge extra.  We advise you to pay the fee; it's worth it if only to know what a foundational Napa Valley wine tastes like.
A little extra tip.  BV shares its parking lot with the Rutherford Grill.  We often eat lunch there before we go tasting; if you want to go, you'll need a reservation. It is a popular restaurant and the food is quite good.
We are never quite sure what Rutherford Dust was all about, but you certainly can find it (if it exists) at BV.