If you'd like to have a glimpse of what Sonoma County used to be while still tasting wines that might appeal to more modern tastes, Foppiano vineyards is a winery to add to your list.  One reason it's like what Sonoma County once was is that Foppiano was there back then.  It was founded in 1896 by Giovanni Foppiano, an Italian immigrant from Genoa.  To the present day, there are many Sonoma Country wineries with Italian names; in this case, the Foppiano family still owns and runs it.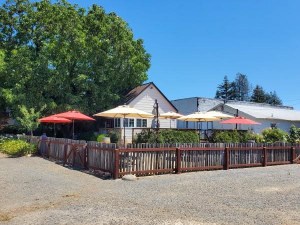 Foppiano's winery.  Photo courtesy of Sonoma County Tourism.
The winery is a little bit out of the way although it's easy enough to find if you start in downtown Healdsburg.  Just head down the Old Redwood Highway and there it is.  (It's tougher to find coming off Route 101.)  It's hard to miss, with "L. Foppiano Wine Co." written in big letters on the side of their production building.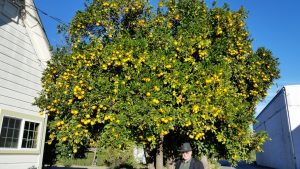 The Foppiano orange tree, in full (sour) fruit.
Foppiano is located in the northeast corner of the Russian River Valley, although it doesn't feel that typical of the region.  The general image of Russian River is of winding lanes through the forest and alongside vineyards.  Old Redwood Highway and the roads that feed into it are straight as an arrow and the landscape is open and flat.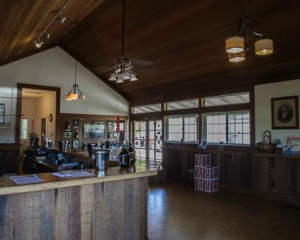 Foppiano's tasting room.  Photo courtesy of TripAdvisor.com.
Foppiano's tasting room is housed in a little white clapboard house with a huge orange tree outside.  (They're happy to let you take any oranges that fall, because they're terribly sour.)  The building backs up to their factory, so the overall impression is "rustic industrial".  The impression is softened by the vineyards that surround the buildings.  The tasting room is a bit dark with a simple bar, lit by big windows that overlook the vineyards.
As is often the case with smaller Sonoma County wineries, Foppiano produces an extremely wide range of wines.  There are Sauvignon Blancs, Chardonnays, Pinot Noirs, Cabernets Sauvignons, a Cabernet Sauvignon, a Zin, a Rosé, some sparklers and even a Carignane.  With that many varietals, it is unlikely that all of them will appeal to all tastes.
However, there is one varietal for which Foppiano is best known: Petite Sirah.  A hybrid of Syrah and Peloursin, this grape was developed in France but is now largely grown only in California.  Many use it as a blending grape to provide color and depth; Foppiano began bottling it as a varietal in 1967.  Their Petite Sirahs are dark, unctuous and deeply flavorful.  Prepare for blue teeth if you try some.  In our opinion, even though their wines are drinkable on release, they really need several years cellaring to knock of some of the rougher edges.
With 125 years of history, Foppiano has certainly seen a lot of changes, both in their vineyards and in the life of Sonoma County.  For most of those years, they produced jug wines and in tribute to those days, they still sell half-gallon growlers of Petite Sirah.  We see Foppiano as a bit of a throwback to a slower, less frenzied time when the roads of the county were filled with tractors, not tourists.  As the song says, these are the good old days, but it's pleasant to visit the good older days, too.