They say that in Sonoma County, the farmer is king.  And in Alexander Valley, Robert Young (www.ryew.com) was the king of farmers.  Born in 1919 and passing away 90 years later, Young was one of those wine pioneers who had the temerity to pull out fruit trees and plant Cabernet Sauvignon.  Keeping in mind that the farm had been in his family since the mid-19th century, that took a lot of guts.
He was a "winegrower" as he styled himself, not a winemaker.  He raised premium crops and sold his grapes to such houses as Château St. Jean, Blackstone, Clos du Bois, Simi and others.  Château St. Jean was the first Sonoma winery to identify a particular vineyard on its label and make a single-vineyard wine.  That Chardonnay is still one of their biggest sellers.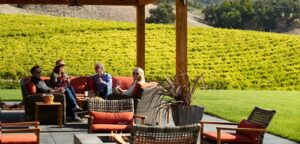 Photo courtesy of the winery.
All this history is fine, but how does that translate into a reason to visit the winery?  For one thing, there is a winery and a tasting room, but only since 2010.  It seems that the younger Youngs, who operate the family farm for yet another generation, pressed Grandpa to press some of the best of his grapes himself.
Getting there is half the fun.  You drive off the northern end of Alexander Valley Road onto Red Winery Road.  (There is no red winery to be seen, but there must have been once.)  If you're there on a lazy summer afternoon, you'll be all alone on a windy road surrounded by nothing but farmland – mostly vines – with some well-placed trees and open sky.  You'll know when you get to Robert Young, because there's nothing else around.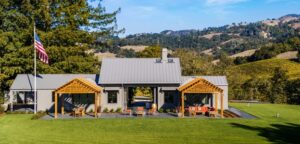 Scion House.  Photo courtesy of the winery.
In old Robert's day, the tasting room was in a building that appeared to be the ancestral farmhouse.  It wasn't, but the effect was pleasing.  Today, there's an aptly named Scion House that serves as the tasting room.  It isn't a farmhouse and never will be, but it has that vibe.
We don't review wines at Power Tasting; we write about the experience of wine tasting on travels through Wine Country.  And as we have written before, when you consider that each winery has its fans, they're all good.  At Robert Young, they pour Cabernet Sauvignon, Merlot and Chardonnay.
The best way to enjoy them is to take your glass to the patio and gaze out over the more than 300 acres that constitute Robert Young's vineyards.  It is truly impressive, vines – their vines – as far as the eye can see.  You feel as though you're looking back through time, to the era when Sonoma County and Napa Valley were just fertile farmland, but without tourists.
In a way, a visit to Robert Young hearkens back to the early days of Northern California wine tasting.  A farmer had some grapes and made wine out of them.  He wanted you to come and have a taste and maybe buy some.  That bit of living history is worth the drive.