Écluse Wines (www.eclisewines.com), in Paso Robles, offers wine tasting the way it used to be in the long gone Napa Valley times.  The tastings are held in the barrel room.  The bottles are laid out on a plank between two barrels.  And if you're lucky, your glass will be filled by the owner and winemaker, Steve Lock.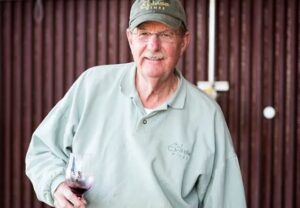 Steve Lock, proprietor and winemaker, Écluse Wines.  Photo courtesy of the winery.
Mr. Lock and his wife Pam started their vineyard in 1997 and began making wine from their own property in 2001.  They have focused on Bordeaux and Rhône grapes ever since.  And, of course, since they're in Paso Robles, they grow Zinfandel.
The setting of Écluse, atop a hill off a back road in Paso Robles, is quite rustic.  However, there's nothing bucolic about the winemaking.  They are quite proud of the awards they have won, especially those from the San Francisco Chronicle's annual wine competition.
The Central Coast climate leads to very high sugar concentrations.  The Locks believe in letting their grapes ripen to their peak flavors, so the alcohol content of their wines tends to run quite high.  Since they offer a significant number of their wines at each tasting, a bit of restraint is in order for the visitors.
Those wines fall into two categories.  There are single varietal wines, such as Merlot, Malbec and Zinfandel.  But then there are blends.  For a few examples, Ensemble is Écluse's five-grape Bordeaux blend.  This you will find elsewhere. The others are like nothing else you're likely to find in the Central Coast, or in all of California for that matter.  Improv is Zinfandel, Syrah, Cabernet Sauvignon, Petite Syrah, Merlot, Malbec and Carignan. Insider has Cabernet Sauvignon and Malbec (not so unusual) but half the wine is made from Tannat grapes!  A visit at Écluse is like a trip to Australia, without having to cross the Pacific.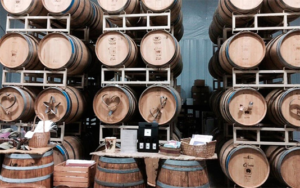 The barrel room at Écluse.  Photo courtesy of Paso Robles Wineries.
Another distinguishing feature of a tasting at Écluse is that all of them include a barrel tasting.  If they're not too crowded and you show genuine interest, Mr. Lock may treat you to an extraordinary experience.  He'll draw wine from three barrels, each with oak of a different origin: France, Hungary and the United States.  The wine you taste will be from the same grape and vintage so the only differentiator is the wood.  This is an unforgettable experiment that offers proof of Écluse's commitment to their wines.
Écluse is only open from Thursday through Sunday and reservations are advisable.  But we have found that if you're not going to be in Paso Robles on the weekend, a call might win you a private tasting, if they can accommodate you.
There's a sly play on words in the name.  Écluse is the French word for lock, of the sort that are found on canals to raise and lower the boats.  Pictures of a lock are on the labels and considering the family name of the owner…