A Bordeaux winery founded in 1980 is a newcomer.  In Napa Valley, it would have a heritage but wouldn't be a pioneer.  But on Long Island's North Fork, a 1980 winery is positively ancient.  Bedell Cellars in Cutchogue (pronounced KUCH-og) is just such a winery.  It has had two owners, the Bedells (Kip and Susan) who started it and the Lynne family who are still there.
Then and now, Bedell made a number of wines, red, white and rosé.  At the outset, the winery focused on one grape, Merlot, to the extent that Kip Bedell was known as "Mr. Merlot".  In our earliest forays into Long Island's new Wine Country, we found Bedell Merlot to be a standout among other wineries trying to do everything for everybody.
Bedell Cellars still bottles Merlot, but today it is a wine, not the wine. The wine that Bedell features most prominently now is Musée, which is a Bordeaux grape blend.  It is unusual in two ways: the most prominent grape is Petit Verdot, which is usually used for blending in France.  And the 2019 bottling does not contain Cabernet Franc, which many (us included) find to be the grape most suited to the North Fork's terroir.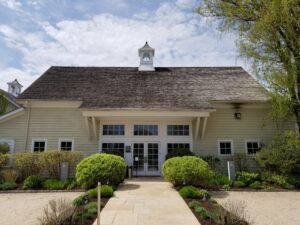 The entrance to the Bedell winery.
There are a number of reasons to spend time at Bedell when visiting the North Fork.  Not the least is the look of the place, both inside and out.  There is a New England-y quality to the exterior of the winery buildings.  Since the North Fork was settled by émigré Puritans in the 1700's, the architecture is an homage to local history.  White clapboard and little steeples lead one to expect whalers to be coming home at any minute.  These days, especially in the summer months, it is far more likely that it will be tourists who are coming.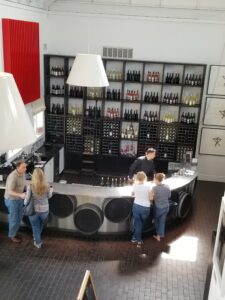 Bedell's tasting room.
The décor of the tasting room belies the rustic sense of the exterior.  It's modern, metal and high-tech, all rather dramatic.  The servers work behind the bar and interact with visitors languidly on cool, early April days and a bit frantically at the height of the summer.  We do recommend a visit to Bedell to get a sense of where the North Fork's wines have come from.  But we further recommend that you do so on a day other than a high-season weekend.
In addition to the tourist hordes, you are likely to find some distractions at Bedell.  They often present musical acts, for one thing, and in the summer youmight find yourself surrounded by a lot of surprisingly well-dressed people.  They are probably there for a wedding.  Winery nuptials are becoming quite the thing on the North Fork, and the beauty of Bedell's vineyards, grounds and architecture attract quite a few.
We view marriage quite favorably and are happy to see people getting hitched in such lovely surroundings.  But the business of winery-as-a-backdrop may have an effect on the business of making and selling wine.  It's enough that winemaking is part farming, part art and part industry.  Adding ceremonies as a fourth part of the financial equation can alter a winemaker's perspective, as well as that of wine tasters.  We hope that Bedell keeps its eye on the ball…or at least on the grape.