You can find great wine bars around the world, as Power Tasting's irregular series on such places evidences.  But in Italy, in Rome in particular, bars called enotecas fill a special niche.
Around Italy, especially in towns in wine making regions (which is most of the country) you'll find wine stores offering degustazioni, or tastings.  These are primarily meant for the tourists; you almost never see local people in them.  The idea is to pour a little of four or five wines in order to entice potential buyers to come inside to purchase some bottles.  That's not the same thing as an enoteca.
Likewise, there are plenty of bars, in Rome and elsewhere.  There you can get a Scotch or a glass of wine.  Italians don't just drink wine; they too like a stiff one every now and again.  But these bars are not enotecas, either.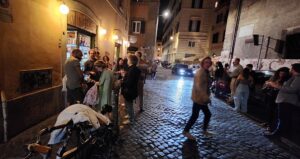 Outside a typical enoteca in Rome.
The real thing is a wine store with tables and a list of wines by the glass or the bottle.  There are tables and often some food to eat, but they are not really restaurants, either.  The menu is more for snacks and sliced meats and cheese, not complete meals.  People do sit at the tables to drink their wine, but just as many take their glasses outside to mix and mingle with their friends.  Tourists are not made to feel unwelcome, but more attention goes to the customers who will be back tomorrow, and for years after that.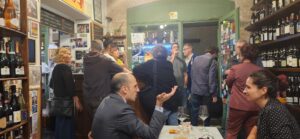 Hanging out inside a typical Roman enoteca.
Enotecas fill the spot in Roman lives that pubs do for Londoners.  Yes, alcohol is involved and people do choose specific enotecas based on the wines they serve.  But more often, the local enoteca is just the place they go because it's close and, well, everybody else is there.
In many restaurants, we have found a predilection for serving wines from the local region.  Some enotecas have wine lists that constitute an education in Italian wine.  Most enotecas have wines from all over the country.  Of course, quality differs from place to place, but for the most part we have found that most enotecas serve wines that are reflective of their grapes and terroirs.  Thus, you have everything from a northern Lagrein to a Sicilian Nero d'Avola (and everywhere in between) available to you and most are quite drinkable if not the very best of their sort.
When foreigners arrive in an enoteca, they are marked as tourists immediately because they consult the list of wines by the glass.  The regular clients seem to have the list memorized and, moreover, they know that they want the Verdicchio or the Montefalco because they always want the Verdicchio or the Montefalco.  We have found that if you act like you are guests in someone else's house (or bar), the servers are quite friendly and willing to help you select something to your taste.
And then there's the matter of price.  Enotecas are, at least to those of us who are used to the cost of drinking wine in American bars, ridiculously inexpensive.  It is rare to find a glass of wine priced at more than 10 euros (around 11 US dollars at current rates) and most run between six and eight euros.  And the pours aren't skimpy, either.
So when in Rome, do as the Romans do.  Stop by an enoteca.