At the southern end of San Francisco Bay there is the town of Santa Clara, which lends its name to the valley that runs south of it to Gilroy (called the "Garlic Capital of the World"), as well as to the AVA for the wines made there.  There are, according to the local wine trade association (http://www.santaclarawines.com/santa-clara-valley.html) twenty-five wineries in the valley, although that's just the association's membership, since we know a few that aren't listed.
The northern end of Santa Clara Valley is better known by another name: Silicon Valley.  The town of Santa Clara abuts San Jose and other famous software producers, like Los Gatos and Sunnyvale.  These places are possible reasons you might be in the area, beyond wine tasting.  It was the case for us; we tacked on some tasting to a business trip.  Silicon Valley, of course, has long shed its agricultural roots but there are a few wineries that could be interesting to visit.  J. Lohr Vineyards (https://www.jlohr.com/) is on a typical urban street in San Jose and has little or no wine country ambiance, but it does have some creditable wines that are often found in wine stores and on restaurant lists.  We have previously written about Testarossa Winery (http://www.testarossa.com/) in Los Gatos, which offers a superb tasting experience and some top-notch Pinot Noirs and Chardonnays as well.  Maybe you can cut your last meeting short and visit these two, although they are quite far apart.
As is the case in much of California's Wine Country, Route 101 is the main stem through the more southerly and more rural section of Santa Clara Valley.  A half-hour out of San Jose you'll find a number of wineries to visit.  This is the Morgan Hill district and is the area in Santa Clara Valley with the densest population of wineries.  We'd like to report on some great discoveries, but for the most part we weren't as impressed with the wineries here as we were with those in the urban areas.  There was at least one that was a gift shop that made wine rather than vice versa, so beware where you go.
Sycamore Creek Vineyards (http://www.sycamorecreekvineyards.com/) offers a very modernistic picnic area, with high metal stools clustered around stone planters with what appear to be olive trees rather than sycamores in the middle.  The winery is a massive industrial building with the barrel room and a metal bar to one side.

Sycamore Creek's picnic area.  Photo courtesy of Léal Vineyards, Inc.
Kirgin Cellars (http://www.kirigincellars.com/) is California Wine Country the way it used to be…a long, long time ago. They have been making wine since 1916, and it shows.  Their original tasting room is still there and it gives the impression that hobbits must live there.  They also have another, larger tasting room that is actually modern but designed to look as ancient as the original one.  With a wood-burning stove in the middle, it truly reminds you of wine making and tasting in another era.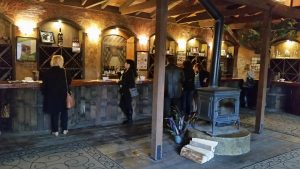 Kirgin Cellars "new" tasting room
The town of Morgan Hill is where you'll want to go for lunch.  We learned after we visited that Morgan Hill is heavily populated by Silicon Valley zillionaires and it seems to follow as day follows night that people with money like to dine out.  Monterey Road, not far from Route 101 is chock-a-block full of restaurants, some upscale, some not.  You'll have quite a few to choose from.
Santa Clara Valley is scenic in much the same way that California Vineyard areas are all scenic.  The hills roll, the roads twist and the vines grow in serried rows up to the horizon.  We wouldn't call it a destination locale in Wine Country, but if you happen to be in the area, overall it makes for a pleasant tasting experience.