Wine tasting is an avocation that can be followed around the world. Between the two of us, we have gone wine tasting in France, Italy, Australia, South Africa, Québec and of course in many places in the United States. It is no secret that California has the most wineries and that the most famous ones are just north of San Francisco, in Napa and Sonoma counties. But only in these counties, to our knowledge and experience, are there destination wineries that are more about the place than about the wine.
There are many wineries that are in buildings of architectural interest. Chateau Montelena, Jordan, Duckhorn and the new Stag's Leap Vineyards spring to mind. However, the reason to go these places is not to admire the structures but to enjoy the wines they make. The beauty of the places enhances the experience, to be sure, but the wine's the thing. There are others where the winery is designed to awe the visitor before the first sip is taken. The experience is about architecture, interior design, high-end shopping and oh, yes, there is wine to be tasted. A few of the leading exponents of this view of wine tasting are Darioush in Napa, Castello di Ameroso in Calistoga and the Francis Ford Coppola winery in Geyserville.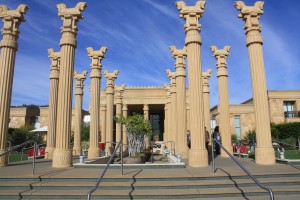 Darioush Winery
Now, it should be stated that Darioush makes good wine and is best known for its Shiraz. The owner is a wealthy Iranian emigrant who, in entering the wine trade, decided to recreate the glory that was ancient Persia. It is truly beautiful and very much over the top. We like the wine but not the wine tasting experience when we have visited there. It's just not for us.
Castello di Amoroso is a replica of a castle in Tuscany and a rather good replica at that. It attracts hordes of tourists. There is even a fee to enter the castle. It's hard to believe that all those tourists are there just to taste an American Sangiovese. And at Coppola Winery, the movie director Francis Coppola, in addition to having a museum of his films, has a swimming pool available to vacationers. No more need be said.
Which is not to say that places like these are not for you. Wine tasting in Northern California has become Disneyland for adults and if that's what appeals to you on your vacation, go right ahead. We like Disneyland; we just don't want to go there for wine. That's us, not you.
Even if you agree with us, we think you should try these palaces on occasion. For one thing, the wines can be very good and shouldn't be overlooked. For another, just because we find Darioush to be too, too much you may not agree. After all, why is a winery visit that combines fine art (Hess Collection, Clos Pegase), or beautiful views (Silverado, William Hill) or fine food (Domaine Chandon) any less worthy than one that includes a palatial edifice? Wine tasting, like wine itself, is a matter of taste.
Our tastes run towards wineries where we can chat with someone very knowledgeable (especially if it is the winemaker) and enjoy a wonderful and personalized experience built around very fine wines. Often, tasting at these vineyards requires an appointment and in some cases can be rather pricey. Some would find wine tasting in these circumstances to be snobbish or intimidating. Opus One and Verité, for two examples, might fall into this category and we do love their wines. Again, it's certainly not for everyone.
If you have some experience visiting wineries in Napa and Sonoma, you probably have a pretty good idea of what you like and what you don't like. If you are new to wine tasting, it's worthwhile to read up in advance and try different sorts of wineries that seem to appeal to your taste and your pocketbook. And even if you know your way around, try something that breaks your personal mold every now and again. You might be pleasantly surprised.