They say that the month of May is merry.  We can't vouch for that, but we do know that it is an excellent time to visit Napa/Noma.  (Not to say that the other months aren't excellent in their own ways.)  This is the time of year that the vines are flowering and getting ready to set the fruit that will be crushed in September.  It is also a time when many vineyards release their new wines for sale, so there's a lot to taste.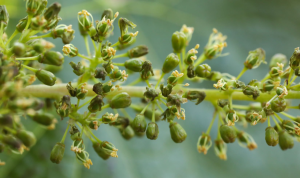 A grape vine in bloom.  Photo courtesy of Jordan Winery.
 Another very important benefit of visiting Napa Valley and Sonoma County in May is that the Big Heat has not yet arrived (although global climate change is pushing the heat sooner in the year) while the crisp coolness is out of the air.  That's not to say you won't encounter chilly, humid, misty mornings; these happen all year long in this sector of Wine Country.  Almost dependably, however, by around 10:30 the mist lifts and you are greeted by glorious sunshine.
Weekends, particularly Mothers and Memorial Day weekends, can be very crowded in the Napa/Noma tasting rooms and the roads leading to them.  If possible, avoid Route 29 in Napa Valley.  Sonoma County, being more spread out, doesn't have quite the traffic problem that is found in Napa but Route 101 is likely to be more backed up.  On the weekends, it's a very good idea to make reservations for tastings in the top wineries you might be interested in.  Another idea is to use these days for in-town tastings in Napa, Yountville or Healdsburg.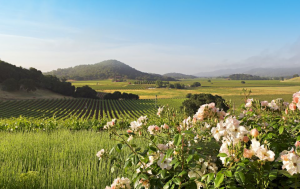 Springtime vineyards. Photo courtesy of TripSavvy.
The farm-to-fork restaurants that abound in Napa/Noma find themselves with fresh local ingredients again in May.  It's not the same as the bonanza of fruits and vegetables that will come during the summer, but it is time to say goodbye to root vegetables and preserved fruits in favor of products right off the vine.  (No, not grape vines.  That comes later.)
If you can find the time to go wine tasting during the week in May, you will have the advantage that in most places school is still in session.  We love little children but they really don't belong in tasting rooms.  That's not to say that you will find the wineries empty in May.  Far from it.  But you will be able to sip somewhat more peacefully in May than in the following month.
Figuring out what to wear in Napa/Noma in May is a bit of a puzzle.  In a local climate that has cold mornings, warm afternoons (up into the 80s) and cool evenings (down to the 50s) you may want to have a wider variety of clothes than in other times of the year.  Wearing layers makes sense, because you can put on a sweater or a jacket at one time of day and take it off as things warm up.
In song and verse, springtime is seen by many as the best season.  Why not enjoy it wine tasting in America's foremost winemaking region?