This month's Places to Visit article is about a place most wine lovers can't visit.  It's a trade show that was held in March in New York City's Javits Center for the international wine trade.  As Power Tasting's reporters are considered to be "trade", we were able to attend and are pleased to offer our readers an account of what the event was all about.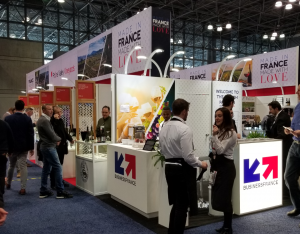 Part of the French pavilion at VineExpo New York 2020.
It was mostly about the business of wine.  In particular, growers from all over the world sought importers and distributors so that they could sell their wines in the US, especially on the Eastern Seaboard.  And of course, importers and distributors were looking for new producers without the expense of travelling overseas.  [VinExpo New York occurred on March 2 and 3, after the coronavirus had begun to spread but before it was the worldwide crisis it has become.]
Wines were displayed (and tasted) from all over the globe: France, Italy and Spain being the most prominently positioned, but Brazil, the Czech Republic, South Africa and Georgia also had sizable exhibits.  (That's Georgia from the Caucasus, not from Dixie.)  There was a huge tasting area for organic wines.  There were also numerous exhibits of wine accompaniments, such as glasses, barware and preservation systems.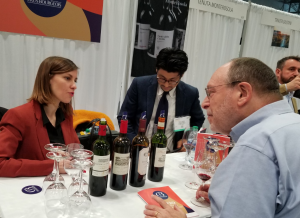 Jeffrey Franklin of the Society of Wine Educators discussing (and tasting) with Armelle Cruse and Paul Maron of Cru Bourgeois du Medoc.
There were also many lectures and curated tastings.  These were split between sessions that were clearly for those in the wine business, such as a panel discussion sponsored by Wine Spectator on "The Changing World of Wine Retail in the US" and others that were about wines from certain locations, such as the Czech Republic and Sonoma County.  Not surprisingly, the lectures that included tastings were the ones most widely attended.
So what was to be learned that is of interest to (shall we say "non-professional") wine tasters?
Wine is a business and internationally it's a big business. From the casual buyer to the connoisseur, wine drinkers buy hundreds of billions of dollars' worth of wine each year.  We learned that this market is expected to grow to more than $400 billion by 2023.  As a group, we wine tasters have some economic clout.
Some very good wines are being made in places other than those we're accustomed to. Brazilian sparkling wine?  Not bad.  Czech Muller-Thurgau?  Worth sipping.  With wine being made in all fifty of the United States, we Americans shouldn't be surprised by other countries' entry into the market.
Small producers have a tough time breaking into the US market. Of course, this does not come as a shock.  With the shipper, the importer, the distributor and the retailer (or restaurateur) adding their costs to the price of a bottle, it is either not financially feasible for many small wine houses to sell here or for many customers to take a chance with a virtually unknown wine.
There's more to the wine business than wine. Somebody makes money selling the rack you store the wine in, the gizmo you use to pull out the cork and the glasses you sip it from.  Of course, you knew that.  But seeing it all in one place reminds us that there's an awful lot of money needed to get the wines we love get from the vine to our tables.