It happens so often.  You're on vacation in Wine Country and you taste a wine that's just so good.  You must buy some to have as a souvenir of your wonderful trip.  The bottle gets carefully packed in your checked luggage and stored in that special place you have for your best wines.  It's being saved for a special occasion.  But when that day comes, you open the bottle and…meh.  "What was I thinking?" you ask yourself while you finish the bottle in disappointment.
You hear people say, "This wine just doesn't travel".  Malarkey!  That may be true for a well-aged Bordeaux that has accumulated a lot of sediment, but not for a new release that you try at most wineries.
What happened, and what can you do about it?
Everything is better on vacation. When you go wine tasting, you become enthralled with the beauty of the vineyards, the friendliness of the server, the elegance of the tasting room, the beautiful weather, some of the above, all of the above.  Your dining room table is very nice, but it can't compare to the emotional pull of a long-remembered vacation.  The best advice is not to try to remember what the wine was like back then and to enjoy if for what it is now.  But if you must, try to recreate the memory of that special time.  Talk about it, especially with your Significant Other who shared that experience with you.  The memory won't make the wine taste better but it might make you feel better about it.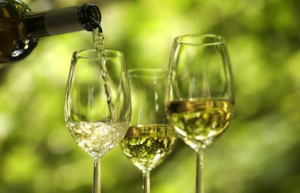 Vinho verde.  Photo courtesy of visitportoandnorth.travel
It's not the same wine anymore. When you tasted that wine, it was young.  If you've stored it for a couple of years, it has changed.  Some wines improve with age, but there are many that don't.  Most Portuguese vinho verde shouldn't see its second birthday.  A lot of Zinfandels are meant to be drunk when released.  If your save-for-a-special-occasion wine is like one of those, you might want to have that occasion shortly after you arrive back home.
You waited too long. Sometimes a bottle just seems to find a spot in the rack that you don't notice.  Years go by, other purchases are made and then one day you find that special bottle, almost forgotten.  Did it bake in the summers gone by?  Has it reached and passed its peak?  It's not a bad idea to let some wines age, but it's a very good idea to remember that you have something special and not let it pass its time.
It may be even better than you remember. As noted above, with time it's not the same as the wine you tasted. If you bought well and stored the wine well, time can often smooth out some roughness and give deep-seated flavors a chance to emerge and reach their peak.  When that happens, revel in the experience and remember the day you bought it.  It's days like those that make wine tasting so special.