The State of Arizona is a wonderland for vacationers.  There are the thriving metropolis of Phoenix and its tony suburb, Scottsdale, where you can visit Frank Lloyd Wright's Taliesin West.  Natural beauties abound.  There are the magnificent red rocks of Sedona, the Painted Desert and more stunning than any other natural wonder is the Grand Canyon.  We encourage you to avail yourself of all the best that Arizona has to offer.
And if you have one more day, we suggest you drive to the tiny village of Jerome.  Once a thriving mining town, Jerome once had 15,000 residents.  But then the mine closed, the people left and it became a veritable ghost town.  Today, Jerome has been revived as…well, there's no other way to say it, Jerome is a tourist destination.  Not a trap, it's too much for that.  But it exists only so that tourists can come look at it, eat a meal or two, buy souvenirs and leave.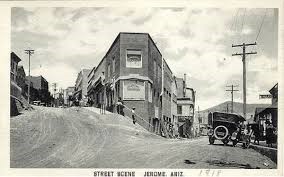 Jerome as it once was… Photo courtesy of the Jerome Grand Hotel.
So why are we featuring it as a Place to Visit in Power Tasting?  Because there are local wines to taste in Jerome.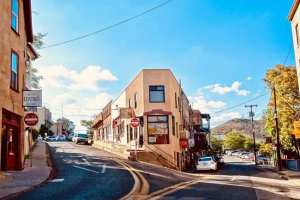 …And as it is today.  Photo courtesy of Experience Scottsdale.
Every state in America has vineyards.  The three Pacific states make world renowned wines.  A few others are producing some creditable wines.  It is Power Tasting's policy not to say bad things about any winery, but we aren't urging you to make the journey to Jerome just for the wines.  But we do recommend that you make it if you are in the area.
Getting there is half the fun, if your idea of fun is driving up a long, steep road.  You are rewarded for that drive by magnificent views across the desert.  If you're the one driving, keep your eyes on the road; if you're a passenger, try not to let your knuckles get too white.
Once you get into town and find somewhere to park, the best thing to do is just walk around.  In some ways, Jerome is small-town America, with the emphasis on "small".  In another, it's a lovingly recreated (and somewhat embellished) corner of the now-lost West.  There are no gunfights on Main Street and probably never were, but there are saloons, cafes, galleries and restored buildings.
And there are winery tasting rooms.  Among them are Caduceus Cellars, Merkin Vineyards, Jerome Winery, Vina Zona, Echo Canyon and others.  Most of them offer a fairly wide selection of wines, starting with the expected varietals such as Cabernet Sauvignon and Zinfandel.  But many feature less common grapes like Aglianico, Nebbiolo, Garnacha and blends of just about anything they can grow.  We don't think that any of these grapes were intended for production in the High Chaparral, but there are some hardy pioneers who are doing it.
A visit to Jerome may not reward the avid wine taster with a life-changing experience.  But you can have a fun day visiting a restored ghost town.  And when you get home, you can brag that you tasted wines made in Arizona.