Of course, we don't mean wine that's green in color.  Nor red wine with heavy accents of green pepper; those don't taste good at all.  Nor the vinho verde of Portugal, whose green-ness means that it is young.  We are talking about wines made using sustainable agricultural methods and in many cases eschewing pesticides, fertilizer and additives.  When we visit wineries around the world to try some of their wines, we know nothing about their farming practices and not much more about how their wines are made.  To be honest, we don't care.  What's important to us is what's in our glasses.
But with a little bit of contemplation, we do realize that what the farmers are doing contributes to our enjoyment and in several ways to our enjoyment in the future.  If they don't care for the land there won't be wine from their fields in years to come.  If they aren't respectful of the climate, they may not even have any wine this year; the fires in Napa and Sonoma counties are proof of that.
The best agricultural practices would be unavailing if the wine weren't good.  Our experience tells us that when the vineyard manager and the winemaker collaborate on sustainable and sanitary winemaking, the results are worth the effort.  Simply put, making wine well produces well-made wine.  While we are unaware of any scientific evidence in support of this proposition, we do have a lot of anecdotal support.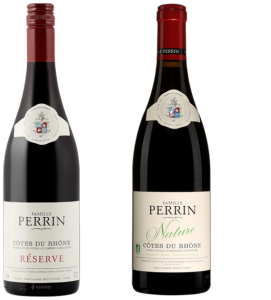 For example, the Famille Perrin Côtes-du-Rhône Réserve Rouge is a widely available, inexpensive red wine.  It's the kind of wine found on many a French table every night (and ours, from time to time).  The same house also produces a Côtes-du-Rhône Nature for a few dollars more.  It's only recently available in the United States, but we have tasted and compared the two wines in Québec and it is clear that the Nature is far superior.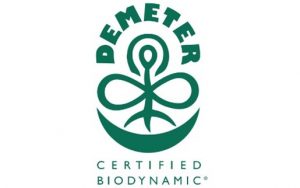 The indicator of biodynamic certification
Perhaps not coincidentally, Perrin also owns Tablas Creek Vineyard in California's Paso Robles.  They are proud to declare that they are certified as biodynamic and organic winemakers.  According to their web site, Tablas Creek uses:
"a mobile flock of 150+ sheep and alpacas to weed and fertilize the vineyard, interplantings of hundreds of fruit trees around and within the vineyards, compost made on site from prunings and grape must, applications of compost tea from the on-site compost, natural pest controls including 39 owl boxes around the vineyard and sections of native vegetation left to attract insects and predators, and our own hives of bees to support all these different plant species".
Now, we're not quite sure how much difference sheep, bees and owls contribute to the winemaking process.  But we are certain that, to our taste, Tablas Creek makes the best Rhône-style wines in Paso Robles.
We believe that specific farming and winemaking practices are not in themselves the reasons why being eco-friendly results in better-tasting wine.  It requires more attention to detail, to sanitation, to taking good care of the environment in the field and in the factory.  This seriousness of purpose finds its way into the bottle and ultimately into our mouths.  This is no secret formula, but it does taste like it works.