The Languedoc is a big place, ranging from France's Spanish border to the south, wrapping around to the doorstep of Provence to the east.  Approximately in the middle is the village (and appellation) of Saint-Chinian.  (We Americans would spell it St. Chinian.)  It's a sweet little town that exists in its current form because of the wine trade.  As pointed out elsewhere in this edition, Saint-Chinian makes good but not great wine (that we've tasted), so it doesn't have the lushness and wealth of, say, St. Emilion or Beaune or, for that matter, Healdsburg.
What it has is a sense of French-ness, or better yet Southern French-ness.  Add to it that Saint-Chinian is a typical rural market town and it all makes being there worth experiencing. As you arrive or leave, be sure to take in the ravishing views.  Saint-Chinian sits at the edge of a mountain range (well, hills really).  There's a real difference between the stony wines in the hills and the softer ones from the valley, which becomes apparent as you drive through. There's one main street leading in, the D177, that leads into another main street, the D612, that goes out to the vineyards.  In the French naming system, a D-road means Départementale (or regional, in English), which means it's not much more than a two-way street, so expect to go slow.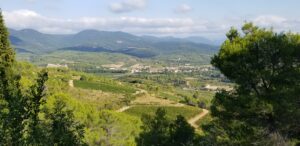 The village of Saint-Chinian sits at the foot of a range of small mountains.
Going slow seems to be a way of life in Saint-Chinian.  The only time you'll see any bustle is on market days, Sundays and Thursdays.  Then the stalls and trucks fill the main square and people come from miles around to shop, socialize, argue (it is France, after all), have a cup of coffee and generally hang out.  There are marchés in many of the nearby villages, but Saint-Chinian draws people from those areas because of its size and perhaps because of the quality of the items for sale.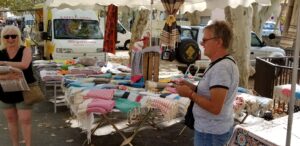 Selling tablecloths and carpets at the Saint-Chinian marché
Sure, there are fruits and vegetables and, depending on the season, you'll find the same ones as at home (only better) and then some you can't find back there, like the late summer mirabelles.  But then there's a truck selling roast chickens just made right there in the seller's rotisserie.  And another with a big pan of paella, ready to eat or for dinner.  And salamis.  And sausages.  And, mon Dieu, there are cheeses.  There are also housewares, including the fellow selling mats and tablecloths that we couldn't resist.
After the market, you can head home and eat what you've bought.  But if you're a tourist, you don't have a home to go to.  So you just amble down the street to a café.  If the weather is good (and it usually is) you sit under a tree and eat an omelette or a plate of local charcuterie, with a glass of a Saint-Chinian wine, of course.
From there, you can be at the wineries and their surrounding vineyards in five minutes' drive.  But you might just choose to relax in town and go wine tasting tomorrow.