This article is the latest in Power Tasting's irregular series on great wine bars of the world, although the Maison des Vins isn't exactly a wine bar.
Just off the main square of the village of Saint-Chinian sits a handsome stone building with a big sign announcing that it is the Maison des Vins du Saint-Chinian, the "House of Wine of Saint-Chinian".   At first glance, it seems to be a wine shop but it's not, even though you can buy wine there.  Then you might think it's the local cooperative, where the local vignerons bring their grapes to be crushed and sold as generic wine from the region.  It's not that either, but it is the headquarters for the association of growers and vintners of the Saint-Chinian AOC.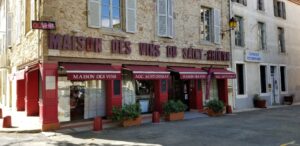 Go inside and you will find that it is the place for you to learn about and taste the unique characteristics of the region's wines, of which more later.  You will be greeted by a staff member whose first task, in our experience, is to size you up.  Are you looking to buy a few bottles or are you there to try their wines?  It's pretty easy to discern the tourists (they're not speaking French, for one thing).  And if you aren't a buyer, are you really there to learn or just to drink some free wine and then leave.
If you, like us, want to learn, the personnel at the Maison des Vins are eager to teach.  What are you interested in, red, white or rosé?  How much do you already know?  What kind of wine do you like?  The servers are all fluent in English, so you don't have to worry about that.
Before you even get to taste any wine, you're likely to get a geography lesson.  Your server will explain that the north and east of the Saint-Chinian region is an area of rocky hillsides, while the south and west are level plains.  The soils are schist in the hills and calcareous limestone and clay in the plains, and the qualities of the wines from those two areas differ accordingly.
With some idea of your tastes and level of interest, your server will pour a taste from their extensive rows of wine dispensers.  If you like it, he or she will offer you others like it.  And if not, you'll get a chance to sample other styles until you're satisfied.  As you're tasting, and if you show that you're interested, the server can tell you all about the vineyard where the wine comes from and the people who made it.  In all likelihood, the farmers/winemakers have been neighbors of the region for generations and all are members of the association and therefore part-owners of the Maison des Vins.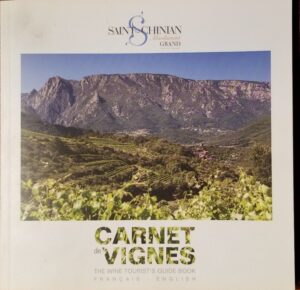 The association publishes a guide to all the member wineries which your server will be happy to give you.  It includes a map, so after you visit the Maison des Vins, you can get in your car (or walk up the street) and go to some of your favorites.  A word of warning: many of these producers are tiny, with their premises on little country roads.  Even with a map, an address, a phone number and a web site, they're not always easy to find.