Of course, tasting wine in Saint-Chinian is just like tasting wine everywhere.  Swirl, smell, sip and smile.  But there is a difference in approach and attitude.  This is a small region in the greater scheme of French wine.  It's not Burgundy or Bordeaux and doesn't pretend to be.  But Saint-Chinian makes some rather fine wines in a low-key atmosphere, with enough history to be of interest just because of its longevity.
It pays to get in the right frame of mind to appreciate what you're tasting, without either over- or under-estimating what can be done with the grapes at hand.  And these principles can be applied around the world in regions with small producers and limited production.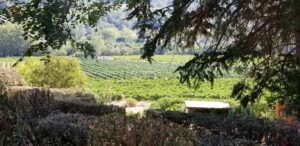 Expect good wine and you'll be rewarded. It makes no sense to visit a tiny tasting room of a vineyard you've never heard of and expect to find a new Latour.  But you can find wines that have evolved over centuries into an expression of the terroir in a region that has only recently come close to its full potential.  Contemporary Saint-Chinian wineries are clean, well-run and often organic (or naturel as they call it).  You may not find great wines in Saint-Chinian but you can taste many very good ones.
Consider the prices. What you get for what you pay in Saint-Chinian will astound the average American wine lover.  Take a sip of a Rhône-style wine, for example, and ask yourself what it would equate to in California.  Only then ask what you'd pay right there.  You very well might be given a price under 10 Euros or eleven US dollars.  As they say in the car commercials, don't try this at home!
Look for what makes the wines of Saint-Chinian unique. One factor is the contrast of wines from stony schist soil and those from clay or limestone.  It is amazing to realize how different the wines from those soils can be.   Considering that they may come from vineyards only a few miles apart is an eye-opener to the influence of terroir on wine.  Then look for that unique tang of garrigue, the herbal brush that grows everywhere in the region, particularly the hillsides.
Admire how far Saint-Chinian wines have come. In the past, you might have tried wine from this AOC – or all of the Languedoc for that matter – and found them rough, acidic and maybe just a little off.  The local winemakers have realized in this century that there is real value, to themselves and their customers, in biodynamic techniques and sound sanitation.  If you can remember the old days, you'll appreciate the results.
Think small. There are no grand houses in Saint-Chinian, even though every winery is Château This and Domaine That.  They don't need to reach a mass audience and they don't try.  So just as each wine tells the tale of the appellation, so they each say something about the men and women who tend the fields, nurture the grapes and make the wine.  That they do so much so well is a testament to what winemaking on a small scale can be.