When we first arrived at Mattebella Vineyards (www.mattebella.com) we were a bit flummoxed.  For one thing, we couldn't see a winery from the parking lot.  What we did see was a statue of a large red dog guarding the vineyards.  Had we stumbled on at the home of Clifford the Big Red Dog by accident?  But no, a few feet further along there was a statue of a large blue dog, and this one had an air tank in its back.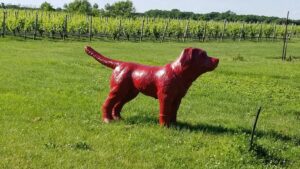 A statue of a large red dog stands in front of the vines.
A bit further on, there was a quite inviting garden, with tables, umbrellas, gazebos, sofas and people seemingly at an elegant party, sipping wine and snacking on charcuterie from large planks.  Had we crashed a private party?
In a short while, someone led us to an empty table besides rose bushes and, in time, a woman came by offering us the tasting list.  (We didn't know at the time that the woman was the co-proprietor, Christine Tobin.  Her husband Mark is the winemaker and the winery is named for their children, Matthew and Isabella.) This was not the usual offering of the latest releases of the winery's production.  There were red and white verticals available!  A rosé described as Provencal.  And the aforementioned platters of meats, cheeses, olives and baguettes.
But where was the tasting room?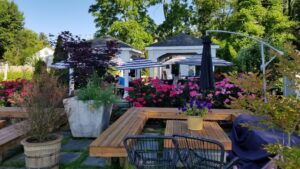 A tasting at Mattebella is like being at an elegant garden party.
By this point we realized that visiting Mattebella is all about the wine tasting experience, exactly what Power Tasting stands for.  When you go into Wine Country, it should not be for the purposes of drinking.  You should be there for sipping, savoring, exploring wines.  It's for tasting them in an atmosphere that you would hope to be in when you open a bottle with friends and loved ones, surrounded by beauty.  You should be encouraged to make the wine the center point but not the totality of a sensual encounter: yes, the taste but also the aroma, the visual pleasure of your surroundings, a whisper of a breeze in the trees.  This is what Mattebella delivers.
Of course it would all be for naught if the wines weren't worthwhile.  Fortunately, Mattebella's are quite good indeed.  And the way in which they are presented, along with the little lecture introducing the wines to you, doubles the pleasure.
We were very impressed with a vertical of their Chardonnays ranging from 2013 through 2018.  First of all, who serves verticals these days?  And who serves what any other winery would call library wines?  We were told that they use both oak and steel containers to age their wines, to provide balance and aging potential.  It was eye-opening (well, more tastebuds than eyes) to see how in each preceding year the Chablis-like austereness of the wines gave way to a more rounded finish, with the oak more distinct.
There is a small building that they refer to as a tasting cottage, so you can visit Mattebella when the weather doesn't cooperate.  (Except, so they warn, when it snows.)  But reservations are made for the gardens, and a rainstorm would definitely spoil the experience.
This was our first time visiting Mattebella.  We are quite certain it won't be our last.  We walked in without a reservation and were lucky to be seated because it was towards the end of the day.  Next time, we'll reserve.