In the more than 40 years that we have been visiting Napa Valley, we've seen many changes.  Some have been for the better, some for the worse as would only be expected over such a long period of time.  Fortunately, some things will never change.  The mountains and the valley floor will always be beautiful, showing different characteristics as the seasons pass.  The earth will always support superb vines.  And, so we hope, those vines will be producing extraordinary wines for many years to come.
For those like us who take pleasure in visiting Napa Valley for wine tasting, we present our perspective on the plusses and minuses of the region today.
The top wineries may be making the finest wines, year after year, that have ever been made there. In a recent visit we focused on the reserve tasting at some of the best vineyards.  Almost without exception (there were a few, but we'll let those pass) the red wines in particular equaled or surpassed anything we have tasted before.  The wines from the drought years are maturing admirably and the recent vintages sparkle.  You are almost certain to sip great wines when you visit.
Merlot is less available in tasting rooms, while Malbec is becoming more prominent. Of course there are still great Merlots to be sampled.  Beringer's Bancroft Ranch and Pine Ridge's Carneros Merlot were our recent favorites.  But more and more wineries are featuring single varietal Malbecs.  Although it is historically a Bordeaux grape, the Bordelais barely use it anymore.  We suspect that its new popularity stems from its dominant use in Argentine wines.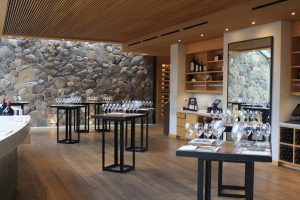 The tasting room at Stag's Leap Wine Cellars
Wine tasting prices have skyrocketed. You will have to pay a pretty penny to sample the top wines, though.  Based on a non-scientific sample, we can report that $45 is table stakes to taste reserve wines.  Mondavi charges $75 for a reserve tasting; Joseph Phelps charges $85.  You can partake of a tasting in Pete Buttiegieg's wine cave (actually it's at Hall Rutherford) for $125.  Wine tasting in Napa Valley has become unaffordable for many people.  Moreover, the prices of the top wines at almost every winery we visited are $100 or more, some into the $200s.
The same can be said for hotel rooms. There may be inexpensive places to stay, but we haven't found them.  We now pay for a room what we would have walked away from only a few years ago.  Using your points at a Marriott or Hilton property may be a good tactic.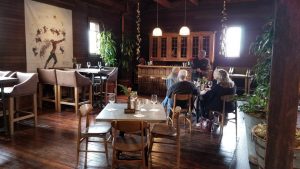 The tasting room at Trefethen Family Vineyards, where all the tastings are seated
More and more wineries are erecting Napa Palaces. Places that only a few years ago were little more than farmhouses with a bar have now become elegant "visitor centers".  Stag's Leap, Louis M. Martini and Joseph Phelps are among them.  Some reserve the fancier digs for members of their wine clubs; Etude, Pine Ridge, Domaine Carneros and Bouchaine are among these.  It's hard to say if this is a positive or negative trend.  The new buildings are indeed beautiful, but they are further removed from the elemental farming and winemaking that has made Napa Valley what it is.
Increasingly, wines are served in seated tastings. Again, this may be viewed as a plus.  You are less likely to be standing next to an over-served know-it-all at the bar.  But on busy days it may prove harder to get your glass refilled.  The servers are more like waiters than educators; they have less time to explain to you the details about what you are sipping.  And while you won't be bothered by other visitors, you're less likely to meet interesting people who share the same enthusiasm for wine.
As we said, Napa Valley has changed and surely will do so in the future.  It is still a wonderful destination for wine lovers.  We just think it's best to be aware of what the conditions are before you book your trip.