Back in our earlier years of wine tasting in California, there was Napa Valley and only Napa Valley.  Oh, we had heard that there was wine being made on the other side of the mountain in Sonoma County, so occasionally we'd take the Oakville Grade and find our way to Route 12 in Glen Ellen.  Turn right and we could visit Arrowood…if we could find it.  The problem was (and is) that the turnoff road for Arrowood (www.arrowood.com) is shared with another winery and that one's sign is more prominent.  So we would drive right by.
If you see a sign for Imagery, be aware that that's Arrowood too, and there are still some very good reasons to take that turn.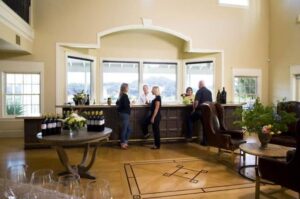 The tasting room at Arrowood, with its great view.  Photo courtesy of Winetraveler.
The first is the beauty of the setting.  Arrowood's tasting room sits atop a rise and there is a wide panoramic window that provides a view of the vineyards and a swath of Sonoma scenery.  If you care for wine with a view (and we do) Arrowood has a lot to offer.  The building itself seems like an upscale farmhouse, but it's a bit difficult to take in because it is best seen while driving up the hill.  Better to keep you eyes on the road.
The winery is named for its founder, Richard Arrowood.  Now retired, his career reads like a history of Sonoma winemaking.  He began at Korbel in 1965; then at Rodney Strong; was the first winemaker at Chateau St. Jean and then opened his own winery in 1985.  The winery has changed hands several times over the years and is now in the Jackson Family collection, with Richard staying involved through 2010.
He has been a strong proponent of Cabernet Sauvignon from Sonoma County and the wines you will sample there lean heavily in that direction.  The winery used to make a Syrah that we particularly liked, but that no longer seems to be the case.  They source grapes from all around the county: their own estate in Sonoma Valley, whites from Russian River, Alexander Valley and Knights Valley.  This alone is a reason to have a tasting at Arrowood.  With one winemaking team, the differences among the wines must be reflective of the terroirs where the grapes are grown.  In general, we have found the servers to be knowledgeable and helpful, especially in describing the different vineyards.
If you happen to be tasting in December, you'll find the tasting room to be pleasantly decorated for the season, with a fire going in the fireplace.  It reflects the elegant hominess that is a hallmark of Arrowood, both the winery and the wines.
Arrowood's story in many ways echoes that of top-end California winemaking.  It has a reputation and a style built around its founder, a Sonoma County pioneer.  It has been sold and re-sold and now belongs to a multi-label corporation.  While Jackson is best known for its low-end wines, the company does own quite a few well-respected vineyards.  It seems that Arrowood is left to its own stylistic devices; still, there is a similarity among its wines and among Sonoma County Cabernet Sauvignons generally.  Is this a good thing or the opposite?  Each taster needs to make up his or her own mind.