The model for most of our wine tasting experiences over the years was having a drink in a bar.  We would stand up and taste selected wines.  More recently, especially in Napa Valley, the model has been restaurant style.  We sit at a table and servers bring us wines to try.
There's another model that we have encountered more rarely but have enjoyed quite a lot: a wine tasting in the very vineyards where the wine comes from.  This way of wine tasting is often, but not always, combined with a tour of the winemaking facilities.  There is quite a lot of variety, in fact.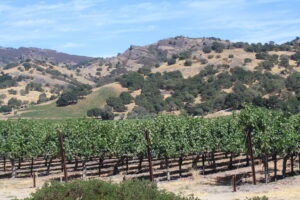 The vines of Chimney Rock
For one thing, many wineries are situated in the middle of or adjoining their vineyards.  There is nothing to stop anyone from picking up their glass and wandering out among the vines.  This is especially fun during the days just before the harvest, when the tasting can be paired with a few stolen grapes.  Once, on a slow day at Chimney Rock in Napa, our server went with us and showed us around the vines.  (We understand that this winery now offers a vineyard tour with a tasting, though we have never taken it.)
Chappellet is a winery that incorporates a brief walk through the vines as a part of its regular tastings.  From experience, we can say that this is a more pleasant experience from March through November.  It gets cold up on Pritchard Hill in the winter.
Most American vineyards are rather protective of their properties, but in many places in Europe, it's easy to walk through vineyards on your own.  So we have sometimes made ourselves a picnic, bought a bottle of the local wine and sipped while eating and walking.  Those Burgundy wines aren't bad, y'know, and actually being there added to their luster.
Some wineries, including the recently reviewed Black Stallion in Napa Valley and Dry Creek Vineyard in Sonoma County have model vineyards so that visitors can get a sense of what the vines and, in season, the grapes actually look like.  These are not the ones that wind up in your glass, but learning to recognize the vines, leaves and grapes is valuable anyway.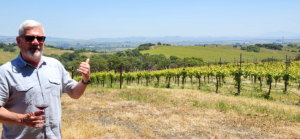 Winemaker Jon Priest explains Etude's way of making Pinot Noir, at their flagship Heirloom vineyard in the Grace Benoist Ranch.
We recently had a unique vineyard tasting experience.  Etude hosted a members-only tasting in its Pinot Noir vineyards in Carneros.  Interestingly, although the Etude winery is in Napa County, their premier vineyards in the Grace Benoist Ranch are in Sonoma County.  We were bussed from the winery to the vineyards and had a barbecue lunch under some shady trees with about 35 fellow members.  The vineyards for the wines we were served were right nearby!  There is a thrill for wine lovers to marry the sights, smells and tastes of the wines we enjoy with the sights and smells of the vineyard.  Added to the pleasure, we were joined by the winemaker, Jon Priest, who explained what we were looking at in terms that satisfied both the wonkiest of wine lovers as well as those who cared far more about what is in the bottle than how it got there.
As noted, there are a lot of ways to combine wine tasting and vineyards.  We heartily recommend taking one.