In a sense, there are two Cosentino Wineries (www.cosentinowinery.com), the historical one and the winery as it is today.  It was established in 1980 in other parts of California and settled in Napa Valley after ten years.  The founder was a fellow named Mitch Cosentino, who was both a pioneer and a rather different sort of winemaker.  For one thing, he was a self-taught winemaker (not quite that rare in those days) but more so because he made the wines that he wanted to drink.  If you agreed with him, fine.  If not, buy from someone down the road.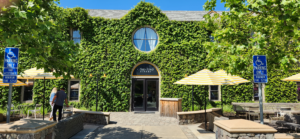 What he particularly liked were Italian-style wines.  He made a Sangiovese and a Nebbiolo, and his best known wines were well-rated Zinfandels that harkened back to a time when Napa Valley wines were made for local consumption by Italian immigrants.  He was also the first to sell a Bordeaux blend labeled "Meritage".
In 2010, Mitch sold his winery to a big conglomerate, which leads us to today's winery. In one way, it is as it was, at the same location as ever at the edge of Napa Town.  The winery building is still there, an Italianate (of course) structure covered in vines.  But the name and the building are the main links to Cosentino's history.  Yes, they do make Zinfandel, but it's not what they are known for any longer.  Today, their premier red wine is the one that Mitch introduced, "The Poet", a Meritage, about which more later.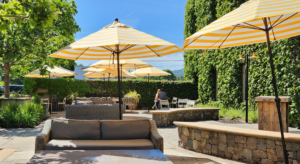 The wine tasting experience at Cosentino is quite pleasant.  The winery is easy to find, right next to Mustards restaurant along Route 29.  There is a wide patio with a large stone wall at one end in which there is constantly lit fireplace.  Seating is well spread out and the view of the traffic passing by is softened by a large hill just across the street with a Victorian mansion on top.  If you go, try to have your tasting on this patio; in our opinion the indoor tasting room is far less inviting.
As everywhere in Napa Valley, Cosentino is "by appointment".  We were seated without one, perhaps by luck or the fact that we got there before the crowds did.   The servers are eager to please, what we would call "hosts" as opposed to "educators". A typical tasting flight is two whites and two reds, one of which is the aforementioned "The Poet", which brings us to the issue of price and quality.
In all honesty, Cosentino does not make the best wines in Napa Valley, but they are pleasant and easy to drink.  They fit the surroundings in that they are the types of wines you might enjoy sitting on your patio with friends on a sunny afternoon.  They cost considerably less than wines made at the better known wineries in Napa Valley, and the tasting fee is also lower, currently $30.  The Poet is unquestionably their top wine (so they say and we agree).  It too is priced well below other wineries' best offerings.
So if your plan for wine tasting in Napa Valley is to visit the Big Names, by all means do so, but be prepared to pay for the experience.  If, however, you want to have a pleasant experience, sipping tasty wines and at least one that's worth savoring, Cosentino may be what you are looking for.