Less than four years ago, Power Tasting's January 2020 issue contained an article entitled, "How to Enjoy Wine Tasting in Napa Valley without Spending a Fortune".  It makes rather odd reading today, since at least half the piece is no longer true.  Of course, when that was published, we didn't know that a deadly pandemic, which closed down California wine tasting for many months, was just ahead.  On this side of those dreary times, as we have noted in a previous edition, wine tasting in America's prime winemaking region has become so expensive that it prices out many potential visitors.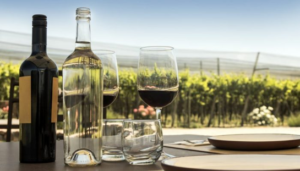 Photo courtesy of Napa Valley Tours and Transportation.
Today, there are no longer any free tastings; buying a bottle won't result in waived fees; and the less expensive tasting flights offered are as costly as the pre-pandemic reserve tastings.  Sharing a tasting glass is far more difficult when almost all tastings are seated and served.  Nonetheless, there are some things wine lovers can do in Napa Valley to make the trip more affordable, if not cheap.
Pass up the "big names". It is not unusual to find tasting fees of $125 or more per person at the better known wineries.  Lesser known wineries, such as Cosentino (reviewed in this edition) or Hagafen offer tastings at far lower prices.  You should do some comparison shopping online before you leave home.
Look for discoveries. The reason to visit the wineries you're already familiar with is that you know what you will get.  There is an alternative approach.  If you are already experienced in going wine tasting, try to cast your mind back to when you first started coming to Napa Valley.  You have the chance to discover wonderful wines that you didn't bother with in the past.  In many ways, we have found that we have gotten the most pleasure from enjoyable wines we had never heard of.
Maybe splurge on one expensive tasting. Yes, the fees wineries charge are outrageous.  But that's what's happening to many other forms of entertainment.  Consider what you would pay for a Broadway show or a hockey match.  With the way tastings are presented today, it is not unusual to spend more than an hour sipping wine.  Add the time to walk around and look at the gift shop, and you can be at a winery for quite some time.  It doesn't make the price of tasting easier to take, but it is easier to understand.
Choose wineries with interests other than the wine. In addition to tasting, you might find it fun to take in some interesting architecture and beautiful grounds.  Chateau Montelena or Stags' Leap might be good candidates.  If you're a shopaholic, Robert Mondavi and Darioush might be just the ticket.  These won't reduce your cost for sipping wine, but will expand tasting experience.
And as we said, there are other great places for wine tasting. Napa is wonderful but it's not to everyone's taste.  If you prefer your tastings to be more rustic and laid back, you might find Sonoma County, Central Coast or Amador County more amenable.  Take your dollars elsewhere and maybe the owners of those Napa palaces will lower their prices.