One definition of value is "whatever someone is willing to pay".  By that token, the most valuable wines in Napa Valley are those that are unavailable for tasting by the average visitor to Napa Valley.  These would include Screaming Eagle, Dalla Valle, Harlan Estate or Schrader.  By reputation, we're sure that these are great wines, but we haven't had the opportunity to taste them.
But another way to look at value is the ratio of quality to price.  While some would have you believe that the more something costs, the better it is, this is not necessarily true and certainly not when it comes to wine tasting.  In these days when a wine tasting trip to Napa Valley is bound to be costly, it is well to consider this definition of value as you choose which wineries to visit and what to try while you're there.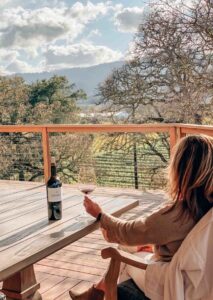 Photo courtesy of What the Fab.
Lesser known wineries can make very good wine. Sure, the big labels you read about in the wine columns of your newspaper make good wine (usually, but not always).  But we have discovered that smaller, less renowned wineries often have a few wines that offer excellent quality.  Our recent experience at Black Stallion falls into this category.  In many instances, these better wines are only available at the winery or to their club members.  If they are opening them at their tasting rooms, it is often to entice you to join their clubs.  But you can enjoy them without joining.
Some wineries that make mass production wines can also have a few that excel. Even though you may have bought some of their easily available wines and not cared much for them, it's worth giving these wineries a chance when you're in Wine Country, especially in Napa Valley.  We have tried – and bought – some gems from Clos du Val and William Hill, for example, that really exceeded our expectations.
With the prices for seated tastings running so high, it might make sense to include a few lower cost wineries when you're in Napa Valley. Remember that the overall experience provides as much pleasure as the wines themselves.  If you know of a tasting room or patio that has something extra to offer, such as art or an attractive setting, you may choose to just relax with a few tastes of wines that don't leave you in awe, but are enjoyable in themselves.  And you may find that there is one wine that is better than you anticipated.  Our experience at Cosentino, with a tasting fee of "only" $30, falls into this category.
Visit wineries that you already know make less expensive wines you know you like. Many people have a few go-to wines you buy just for an informal meal or an easy afternoon outside.  Visit those wineries.  You know in advance that they make at least one wine that suits your tastes.  It may well be that they have others you haven't had the occasion to try.  It's certainly worth taking a chance with them.