We've been visiting Napa Valley for the purpose of wine tasting for a long time, since 1977 to be exact.  Needless to say, the valley has changed greatly over nearly a half century.  In some ways, the wine has stayed the same, but in others it has developed quite a bit.  And thus, the way that visitors engage in wine tasting has evolved tremendously.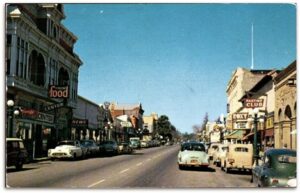 St. Helena in the 1950s.  Photo courtesy of Cinema Treasures
Napa Valley was primarily agricultural, and of course it still is.  But towns like Napa, Yountville, St. Helena and Calistoga are unrecognizable from what they once were.  For example, we can remember when the French Laundry in Yountville used to source its produce and poultry from farms just across Washington Street.  Calistoga was known for mud baths, not wine.  St. Helena was a village for locals and Napa was nowhereseville.  What changed them?  Tourism, of course.  And what brought the tourists?  Wine.
In the earlier times, growers and wine makers would offer tastes of their wines for free as a form of advertising, in hopes that visitors would buy some.  Wine tasting was an afterthought in the commercial scheme of things, conducted in a barn or a barrel room.  The visitors were attracted more by curiosity ("Do they really make wine up there?") than advanced oenological expertise.  And while there were always exceptions, the wines were predominantly Cabernet Sauvignon and Chardonnay.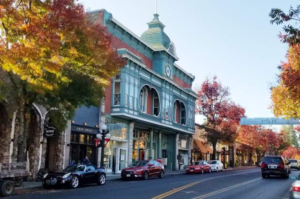 St. Helena today.  Photo courtesy of Visit Napa Valley.
By the 1990's, tourism was well established.  There were plenty of excellent restaurants to feed the visitors (quite well), though hotels there were primarily chains and bed-and-breakfasts.  Wineries began charging for their tastings, enough at first to cover their tasting costs.  These had begun to climb as they had to improve facilities, hire more staff and improve the glassware.  And the varietals had expanded.  Everyone seemed to have a Pinot Noir from Carneros and Sauvignon Blanc from all over the valley.  And the visitors were interested in sipping some of all the wines.  The tastings went from a little of one or two wines to flights of four or more.
By the millennium, wine tasting had become a profit maker unto itself.  Napa palaces were erected from one end of the valley to the other.  And the tasting fees had risen to the point that they were a consideration – along with alcoholic sanity, of course – as to how many wineries could be visited.  Many tasting rooms offered two lists, with the premier wines available at a higher price.  Increasingly, the visitors demonstrated significant knowledge and taste buds.
Today, especially with the aftereffects of the pandemic, much of the tourism in Napa Valley is directed to resorts, with wine tasting almost a sideline.  Of course, Napa Valley wines had long achieved eminence in the world and preeminence in California and the US generally.  But the cost of tasting in Napa Valley had made other winemaking areas, such as Sonoma County, Santa Barbara and the Central Coast attractive alternatives.  The wines of Napa Valley are still superb, but the tasting fees at the finest wineries are a deterrent for some potential visitors.
Napa Valley will long produce great wines and the scenery will forever be beautiful, but the nature of wine tasting there may never be the same.