With wineries shuttered in California and much of Europe, it seems somehow wrong to review a particular wine tasting establishment this month.   (Was it only a month ago that we were happily writing about Far Niente?)  So we have taken a backward glance at all the wineries we have visited over a lifetime of this wonderful diversion of wine tasting and suggest our idea of the perfect winery visit.  If there is a winery in heaven, this is it.
The perfect winery would definitely be situated in the midst of a verdant vineyard.  You'd enter the property up a long driveway, with vines on either side.  And of course, we'd be there in early September, so the vines would be heavy with grapes.  A good example can be found at Trefethen, in Napa Valley's Oak Knoll AVA.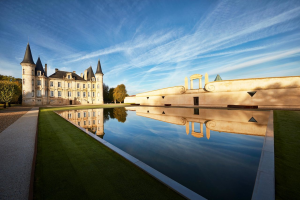 Photo courtesy of Château Pichon Baron.
The building itself would be real, not a castle built to impress winery visitors.  Chateau Montelena in Calistoga is probably the most beautiful we have visited.  It was a rich man's mansion in the 19th century and has been used for winemaking since the 1970's.  Of course, it might actually be a castle, or rather a château.  There are many such to be found in Europe, especially in France of course.  It's tough to choose just one, but we are especially taken by Château Pichon Baron in Bordeaux.
In addition to the beauty of the building, the perfect winery would have an artistic or cultural attraction at a level consistent with the quality of the wines.  A tour at Mouton Rothschild includes a visit to their museum of wine art, but we cannot think of a winery-cum-museum that can top Hess Collection in Napa.  The display of modern art, mostly abstract, would be right at home at any art institute in the world.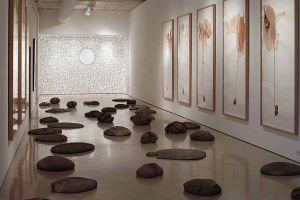 Photo courtesy of the Hess Collection.
The tasting room would not be a bar.  It would look like and feel like a plush but refined salon with beautiful furnishings.  You'd be welcome and made comfortable, with a server who has a great deal of knowledge not only about their offerings but about wine in general, a real sommelier or educator.  There are many tasting rooms like this that we've been lucky enough to see in our travels, but Jordan in Alexander Valley sticks in our mind as our favorite.
And then there would be the wines – what wines!  In the whites, there would be Dry Creek's Sauvignon Blanc and Etude's Heirloom Chardonnay.  Beringer Private Reserve would be the Cabernet Sauvignon they'd serve, and the Bordeaux blend would be (naturally) a Bordeaux from Château Margaux.  There would be some Boisrenard de Beaurenard for Rhone-style red wine.  Sangiovese fans would be treated to a well-aged Biondi-Santi Brunello and those with tastes for Spanish wine could enjoy a Vega Sicilia.  Oh, yes, there would be Château Yquem for dessert.
Photo courtesy of Château Yquem.
Hey, you can't blame us for dreaming, especially in times like these.