There is, of course, an elemental problem with this article.  That is, if you don't already know how to have fun, nothing we say is going to help.  On the other hand, if you already think wine tasting is fun, then we are happy to provide some tips on how to add to your fun whenever you are in Wine Country.
Have a fun attitude.  That advice may seem obvious, but there are a number of reasons to go wine tasting – having fun is only one of them.  Your objective may be educational, which may be satisfying but isn't necessarily fun.  Or you may be in a buying mood.  If you are tasting wines for the purpose of buying a case or two, you ought to be paying attention, not being devil-may-care.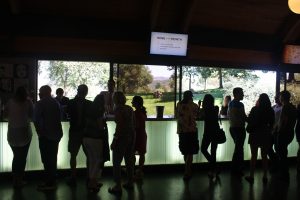 Good times at Domaine Chandon.  Photo courtesy of Haute Living.
Go where the fun is. Now this is a matter of taste.  If you think it's fun to be in a crowd, drinking more than tasting (not our idea of a good time) then go to a popular winery on a holiday weekend.  This mostly applies to the major California destinations.  We've never encountered a partying crowd in Europe, but we have in Australia and South Africa.  In our experience, Domaine Chandon and Miner, both in Napa Valley, fit this bill.
Book a sit-down tasting. This alternative is a bit more restrained, but you still get to meet some (usually) nice people while you taste.  Best of all is a tasting where the winery also gives you some bites of food so you can truly experience what the wine might taste like at your dinner table.  Jordan Vineyard & Winery in Alexander Valley is our favorite in this regard.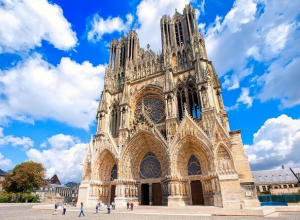 Reims Cathedral.  Photo courtesy of Viator.
Make time for a really nice lunch. In general, wherever fine wines are made there are excellent restaurants nearby. So instead of making the objective for the day to visit wineries, grabbing a quick meal in between, consider a day built around a lunch at a top restaurant, with a bottle of the local wine, of course.  This describes wine tasting almost anywhere in Europe.  We have particularly warm memories of meals on the square in Montalcino, in front of the cathedral in Reims and on Main Street in St. Helena.  But, be careful how much alcohol you consume during the day.
Do something else. Just because you're on a wine tasting trip doesn't mean you have to only taste wine.  If you're near the shore, declare a beach day.  This works in Santa Barbara, Tuscany and Languedoc.  In some places in California, France and Switzerland, you can taste wine one day and go skiing the next.  And almost everywhere has some interesting landmarks, sights and cities.  Leave yourself some time to take them in.
Visit wineries for reasons other than wine. Some wineries are landmarks in themselves.  Two examples are The Hess Collection in Napa Valley and the wine museum at Mouton Rothschild in Bordeaux.  Winemaking is an art, so why not mix in some art with your wine tasting?