As a rule, wherever you find great wine being made, you'll find great restaurants.  This just makes sense – the people who spend all year making a beverage to serve with food want to eat it in restaurants.  And we wine tasting visitors get the benefit.  Naturally, you'll find great wine lists in these Wine Country restaurants; it is often made just around the corner.
We recommend that you take advantage of these wine lists to broaden your knowledge of wineries to visit while you're in the region.  But how do you choose?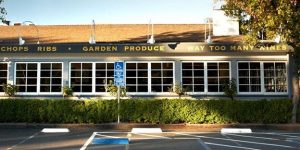 As it says at Yountville's Mustards restaurant, there's way too many wines to choose from.  Photo courtesy of napavalley.com

Order the names you're familiar with, but… Sure, you've heard of their Cabernet Sauvignon or Merlot, but did you know that they make a Pinot Noir?  Very often, restauranteurs feature lesser-known wines from top producers, specifically because they know that people aren't familiar with them.  It builds a nice relationship with the wineries and gives the wine lists a bit of distinction.  If you try one and like it, you can drive over the next day and buy some.  Often these wines aren't widely shipped, so this may be your only chance.
Order the names you're unfamiliar with. Sometimes this means placing your trust in the restauranteur or sommelier, if there is one.  In big, well-known restaurants this may make the choice easy.  In a region you're familiar with, you may know a lot of the names on the list.  But if you're traveling to an area where you haven't tasted very much, everything on the list may be unknown to you.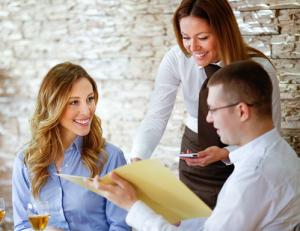 Photo courtesy of Chateau Ste. Michelle Wine Estates.
So ask. Invariably, the server or sommelier will in return ask you two questions: What are you ordering to eat?  What kind of wine do you like?  The wines on the list should be compatible with the menu, so just finding out which wines on the list match up with your tastes will help you plan for where you might want to visit the next day.
Order by price. There are occasions in which you don't want to ask your server to help you choose.  Or if you're overseas, you may not want to try your luck with the local language.  We've found it useful to determine how much we want to pay for a bottle that evening and then choose from the list accordingly.  Sure, there's an element of luck involved, but if the restaurant has a well-chosen list, your chances are pretty good.
Order by the glass. If nothing else, this will minimize your financial risk.  If you don't like a wine you've chosen, you won't have spent a lot on it.  The choice of these wines is generally limited and the quality less than wines by the bottle.  But it's also a way to take a quick wine-tasting trip around the region, without getting out of your chair.
Be prepared for success…and disappointment. Over the years, we have had some great finds in Wine Country restaurants.  There are instances in which we subsequently visited the wineries, bought the wines and continue to do so.  But there have been some occasional duds. But at least we learned what to avoid in our wine tasting adventures.