Château Puech-Haut (www.puech-haut.com) is just about the eastern-most winemaker in Languedoc, France.  Their winery is located in the Pic St-Loup appellation, with vineyards in Saint-Drézéry and in the Cevennes mountains further north.  The tasting room is an easy drive from the city of Montpellier, which is well worth a visit itself.  Now, all these place names may be fairly foreign to American readers.  They're in a less visited section of southwest France, and they're worth knowing about.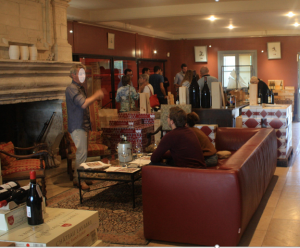 The tasting room at Château Puech-Haut.
There are a number of reasons to visit Puech-Haut if you're in the vicinity. Of course, there's the wine.  For the most part, their wines are quite pleasant, especially their rosés.  They make them from the usual Rhône grapes: Syrah, Grenache, Carignan, Viognier, Marsanne and Roussanne.  Their usual tasting menu gives you a good idea of what they make in white, red and rosé.  We found that if you show a serious interest in what they make, they're quite willing to open some of their better bottles for you.
Puech-Haut is located near the foot of the Pic St-Loup mountain, which gives its name to the AOC.  The winery is surrounded by grape vines and overlooked by a vine-covered château that is more of the nice French country house.  A big deal is made about the massive barrel near the château.  It is indeed large, holding so they say, 300,000 litres, which they claim to be the biggest in the world.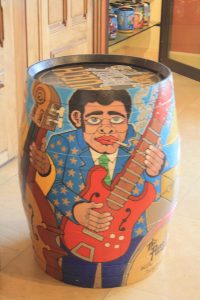 One of the painted barrels, with some containing wine in the background.
There is more to say about barrels at Puech-Haut.  It's not often that we take any notice of bulk wine, a bag-in-a-box.  These serve a purpose; Puech-Haut has a different approach.  They sell wine in bulk is three-litre barrels.  Moreover, the barrels are painted in colorful, amusing, modernistic themes.  When you finish most boxed wines, you throw away the box.  Puech-Haut's are collectibles.  They also show off some of their actual aging barrels, which are also gaily decorated.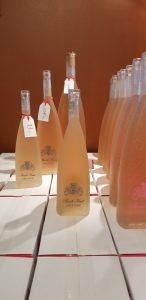 They also make a deal out of some of their bottles.  They're elongated and nearly triangular in profile with a squarish base.  The bottles for the whites and rosés are frosted and they have glass stoppers (pink ones for the rosés).  In a wine store, your eye is immediately attracted to these bottles and we bet that many people buy one with the thought of reusing the bottles as vases or carafes.  Puech-Haut realizes that they make good advertising and give them away at the tasting room.
A few notes in case you do visit Puech-Haut.  The tasting room is spacious and well furnished, but the layout is such that it can get quite crowded rather quickly.  Those of us who go wine tasting often are used to heading for one winery and then visiting others in the area.  This doesn't work well at Puech-Haut; there's virtually nothing else around.
Oh, and by the way, it's pronounced (sort of) poosh oh.