Power Tasting has frequently extolled the virtues of in-town tasting.  But we were thinking of towns like Healdsburg, Yountville or even far away in Montalcino in Italy.  It's a very different but equally pleasurable experience to go wine tasting in a village that's not near a major airport, has lots of local wineries, not one of them that could be called a palace.  If that sounds attractive to you, find your way to Los Olivos in California's Central Coast.
There are many wineries and vineyards in the vicinity of Los Olivos.  Among the best known are Firestone, Beckmen, Fess Parker and the fabled Bien Nacido vineyard.  We suggest you visit these, but we particularly urge you to pull into "downtown" Los Olivos.   There's not a lot to it: three blocks of Grand Avenue and two of Alamo Pintado Avenue that together host 32 (!) tasting rooms.  (A few of them specialize in beer, not wine, but that's okay too.)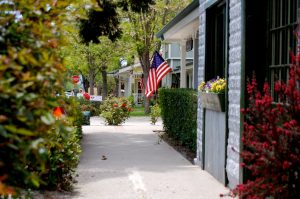 "Downtown" Los Olivos.  Photo courtesy of www.losolivosca.com.
With all of these establishments to choose among, it's a good idea to have a game plan when you visit Los Olivos.  Given enough time, you can at least in theory try all them all.  But for most wine tasters there's probably only one day to sample among the town's riches.  The usual rule of thumb of one hour per winery doesn't apply here, not with one tasting room cheek by jowl with the next one.  So we suggest a walk down the two avenues to get a feel for the place.  Take note of the tasting rooms, but also enjoy the "little American home town" atmosphere.
While you're at it, eat some food.  If you plan to return home that day, a degree of temperance is absolutely necessary.  Even if you stay overnight, you need to be selective.  There are a few places to eat, one of which were briefly featured in the movie Sideways.  In fact, one not very good reason to visit Los Olivos is to brag that you went where the movie was shot.  That was a long time ago and many of the wineries have changed since then.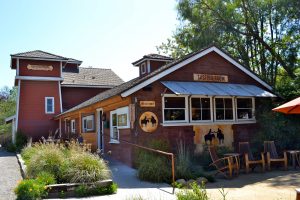 Refugio Ranch Vineyards tasting room on Grand Avenue.  Photo courtesy of Central Coast Uncorked
This being Central Coast, you will find a lot of Pinot Noir and Chardonnay.  The Pinots in particular have some real aficionados.  And if you are a red wine drinker, save some room for the Syrahs and Rhône blends.  We have found some of these to be excellent.
If you enjoy the wine you taste in the first, somewhat randomly chosen location, ask the server about other tasting rooms that might have similar wines.  There's no guarantee that the server knows what you enjoy, so there might need to be a few visits until you hit your groove.  Another approach is just to choose the most attractive tasting rooms and enjoy the wine without concern for top quality.  To be honest, you are likelier to have the pleasure of discovering wines you never heard of in these tasting rooms than to finding the next Screaming Eagle.  Either way, you should have a good time in Los Olivos.