This story occurred in Taormina, a resort town on the cliffs above the Mediterranean, on the east coast of Sicily.  But it could have been anywhere.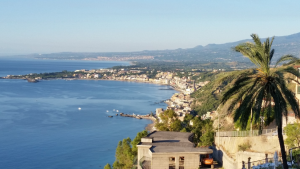 The bay o\f Taormina
We checked into our hotel and, as we had reserved, saw that we had a large terrace attached to our room, with a motor-driven shade that made it tolerable to sit there in the heat of the afternoon Sicilian sun.  The view was so gorgeous, we knew immediately that we had to have a bottle of white wine for sipping while admiring the view.  So we asked the front desk where we might buy some and they recommended a shop a few blocks away (and up the hill), called Mamma Mia.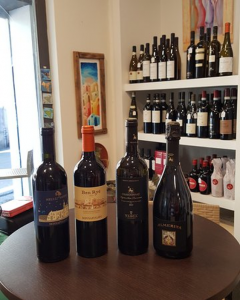 Mamma Mia enoteca.  Photo courtesy of Tripadvisor.
Mamma Mia!  Could there be anything more stereotypical than a shop by that name.  (Actually, the sign in front said, in English, New Mamma Mia, so maybe there was an old one somewhere.)
One side of the shop was a convenience store cum salumeria, the other an enoteca.  Both sides were presided over by a young man named Fernando.  As we entered, he was selling olives to another couple who then wanted some wine.  They didn't speak Italian and Fernando didn't understand whatever language they spoke but it became clear that they were looking for a cool, refreshing and inexpensive wine.
After they left it was our turn and we guessed Fernando thought that two more foreigners would want the cheap stuff, too.  That wasn't what we were after and in our broken Italian we made that clear to him.  So he pulled a few biancos off the wall that cost around twenty euros apiece.  We decided to buy one if he had it on ice but then asked if he had anything better or, in fact, to show us his best wine.  (This entailed a lot of hand motions, a little English, maybe a word or two of French and whatever Italian we could dredge up from our limited vocabulary.)
So he reached back and showed us a bottle of white wine for forty euros, which he said was his best and most expensive.  He was a little apprehensive about suggesting such a high-priced wine but also a little eager to show some interested visitors what he considered to be the best of Sicily.  So in addition to the one we had already chosen, we took the top wine, which he did not have refrigerated.  We had a small fridge in our room, so we bought some olives, a piece of cheese and some sausage and went back to our hotel to enjoy the view.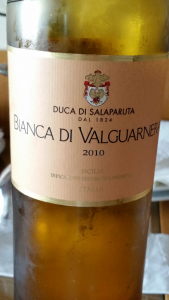 The "special" wine
The next day we had our little feast for lunch and opened the "special' wine.  It was a Duca di Salaparuta Bianca di Valguarnera Bianco Terre Siciliane, and it was among the most enjoyable white wines we had ever tasted.  But it's only available in Italy, maybe only in Sicily.  During our stay in Taormina, we became regulars at Mamma Mia's enoteca and salumeria.
Moral of the story: in your travels, when you want a good bottle of wine, ask where the locals shop and get their best.  You'll rarely be disappointed.