One of Power Tasting's founding principles is to help readers avoid being intimidated when they go wine tasting.  Most servers in most wineries try to be friendly and conversational, so they shouldn't intimidate anyone.  Still many tasters, especially inexperienced ones, find it very difficult to express their opinions when they find a wine they are tasting to be not to their tastes.
Simply put, they don't feel comfortable telling a server that they don't care for a particular wine they have just been served.  We've been raised to say, "please" and "thank you" and to avoid saying anything negative when someone is being kind to you.  So in an effort to be kind, some people wind up unnecessarily swallowing beverages they don't like.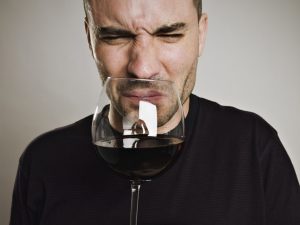 Photo courtesy of Food and Wine.
Here are some tips for expressing yourselves firmly but politely.
Say nothing. Another of the maxims we've been brought up with is, "If you have nothing nice to say, say nothing".  This is the easiest and least confrontational way of indicating you don't like a wine.  That's what the pour bucket is there for, after all.  That leaves you with an empty glass in front of you and lets the server know that you're ready to move on.
There are a lot of terms that aren't "no" but are recognized as, at best, faint praise.  "Oh, that's an interesting wine" is one way to say it.  "Unusual", "different" and even "trendy" can serve the purpose.  For the most part, servers won't ask you why you feel that way, but if they do, you can always say, "Well, based on my experience…".  Nobody can argue with that, even if you have next to no experience.
Be comparative, not absolute. You don't need to be negative.  You can simply say, "I liked the other one better".  And that may actually be the case.  If a particular winery has several Pinot Noirs, for example, you can ask the server to line several of the tastes up side-by-side.  That way you can talk about your favorite and avoid mentioning the one you couldn't stand.  (Of course, this doesn't work if you didn't like any of them.)
Devise a code. Assuming you're traveling with a companion, you can figure out some code words that express displeasure.  For example, "That wine has a hint of cinnamon", which isn't a frequently encountered taste.  You'll both know that that word really means "Ugh".  Of course, if you do taste cinnamon, you're stuck in discussing it.
Think about why you don't like it. Saying that a wine is more acid than you like, or too tannic, or too green isn't saying the wine is bad.  It can also help the server point you towards a wine that is more to your taste.  Maybe there was a different blend of grapes in the 2018 than the 2019 and you'll have the chance to compare and find you actually like one more than the other.
Or you can just 'fess up and say, "Sorry, it's not for me."