Sonoma County is a big place.  It is most famous for the American cartoonist Charles Schultz, the Petaluma Puppy Farm and flooding in the spring.  Oh, yes, and wine.  Lots of wine, some very good, and the people there have been making it for a long time too.  The oldest known commercial winemaking vineyard in California was founded in Sonoma in 1861.  It was – and is – the Buena Vista Winery, where you can still taste their current wines at their winery just outside downtown Sonoma.
There are three major towns in Sonoma County, the others being Healdsburg and Santa Rosa.  They also have restaurants, shops, tasting rooms and hotels.  Sonoma town has its own reasons to visit.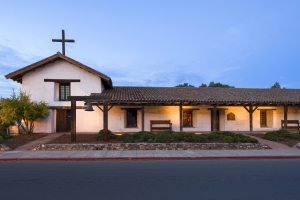 The Mission San Francisco Solano de Sonoma.  Photo courtesy of Sonomavalley.com.
The most important reason, perhaps, is that this is where it all began.  As mentioned above, this is where winemaking started in California.  It was a Spanish mission town, the last one as a matter of fact.  The Mission San Francisco Solano de Sonoma is still standing and available for visiting.  It was in Sonoma that Guadalupe Vallejo, a young lieutenant in the Mexican Army, laid out a street system with a plaza in the middle: today's town of Sonoma.  The Sonoma Plaza is the main reason, besides the history, that you should visit the town today.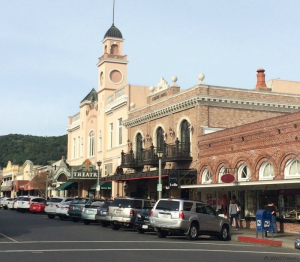 One side of the Sonoma Plaza, with the historic Sebastiani Theatre.  Photo courtesy of joyfimg.pw.
It's a large plaza, in fact the largest town square in California.  It is surrounded by shops, restaurants, tasting rooms and the Sebastiani movie theater that's an architectural gem in itself.  The plaza is full of shady trees and in the middle is the Sonoma Town Hall, also worth seeing for its architectural value.
Sonoma is the southern-most town in Sonoma County's Wine Country.  If you're driving up from San Francisco and plan to spend only a day or so, it's the town in the middle of the Carneros and Sonoma Valley vineyards. There are, in fact, many wineries right around Sonoma to choose from, far more than anyone could visit in a day.  While you're tasting, you're going to want to eat and Sonoma and its central square are a natural choice.  We had quite an authentic Mexican lunch there.
Moreover, there are many tasting rooms on or around the plaza.  If you'd prefer to taste without a lot of driving, especially on weekends, Sonoma offers a good alternative.  Some of the wines available there are quite good.
Many of the wineries in easy proximity to Sonoma have considerable longevity.  Besides the aforementioned Buena Vista, nearby wineries include Sebastiani, Chateau St. Jean, Ravenswood, Gundlach-Bundschuh and Hanzell. They've been making wine for a long time, in some cases back to the 19th century.   Of course their wines today are more up-to-date, but you have the chance to sip history in Sonoma.