The whole idea behind Power Tasting's winery reviews is that we share our impressions at wineries and tasting rooms where we have had tastings.  In this article, we review a winery we haven't visited.  A story goes with it.
We were on a wine tasting trip to Tuscany and focused on two regions within the province.  One was the area between Montalcino and Montepulciano, where Brunello and Vino Nobile are made.  The other, of course, was the area of Chianti Classico.  We had been drinking the namesake wine of Querciabella (quercailbella.com), a Chianti, at home and liked it a lot so we wanted to meet the people who made it and taste some of their other wines.
Querciabella is located in the tiny town of Ruffoli, on a hillside outside the somewhat larger town of Greve.  On a Saturday, we had lunch in Greve and then drove to the Querciabella vineyard, only to find it deserted.  We knocked on the door of what was evidently a house, and a rather angry man opened the door.  To our embarrassment, our appointment was for Friday.  The proprietor (who we now know to be Sebastiano Cossia Castiglioni) had invited his publicist to drive down from Milan to meet us and had evidently planned quite a tasting.  He slammed the door in our faces and he had a right to be angry.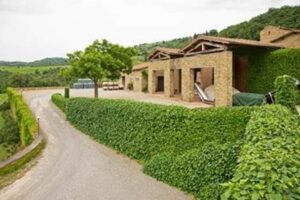 The Querciabella winery.  Photo courtesy of Winedering.
So this article is our attempt at amends.
In a region of Italy where winemaking goes back for millennia and many labels have histories over the centuries, Querciabella is a relative newcomer.  Founded in 1974 on a single hectare in Ruffoli, it now encompasses over 100 hectares in Chianti and Maremma.
Querciabella is famous for several reasons.  While they make Chianti at several quality levels, Querciabella was among the pioneers in producing Super Tuscans.  Eschewing the traditional rules of Chianti winemaking – at least 80% Sangiovese and no more than 20% of grapes such as Canaiolo or Colorino – Querciabella started mixing Sangiovese with French grapes, primarily Cabernet Sauvignon and Merlot.  The first Super Tuscans were produced in the 1970's; Querciabella's first was released in 1981.  That wine was Camartina, the winery's flagship to this day.  Their Turpino is a Bordeaux blend with no Sangiovese at all.  And they also make a 100% Merlot, which they call Palafreno, but only in years when conditions are ideal.  Querciabella has only released it a dozen times.
They are also famous for their commitment to sustainability.  All their wines are organic, biodynamic (without the manure-filled cowhorns), and vegan.  No animal products of any sorts are used in their winemaking.
We can attest that their Chiantis are not to be looked down on.  The Classico is accessible but has lots of Chianti character.  The Riserva is more of the same with greater depth.  Querciabella has had a Gran Selezione since that designation was allowed in the previous decade.  It's a single vineyard Sangiovese, using their best grapes.
They also make a few white wines.  Naturally enough, these wines are blends of Italian and French grapes, too.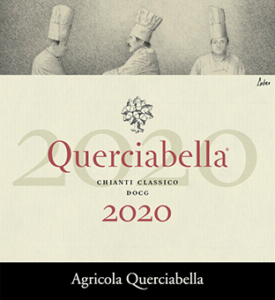 A word about Querciabella's labels.  They all have drawings evocative of restaurants, for reasons unknown.  They're cute, belying the seriousness of the wine behind the labels.
So should you be wine tasting in Tuscany, make a point of visiting Querciabella.  Just don't tell them we sent you.