Duckhorn Vineyards is one of Napa Valley iconic wineries, best known for its Merlots.   In 1994, they began to expand the number of wineries and labels under which it produced wine, the names of which are all related to our little quacking friends.  The first of these was Paraduxx (www.paraduxx.com) which today occupies a rather unique niche in the valley's winemaking.
All their wines are blends, except their rosé.  That in itself is not so exceptional; many wineries mix their grapes, but most stick either to Bordeaux or Rhône varietals.  Paraduxx follows the Australian example: Blend anything with anything else and if it tastes good, bottle it.  So you'll find bottles of Paraduxx wines that contain Cabernet Sauvignon and Zinfandel, Syrah and Viognier (like Côte Rôtie) and even one made of Cabernet Sauvignon, Petit Verdot, Zinfandel, Petite Sirah, Syrah, Tempranillo and Merlot.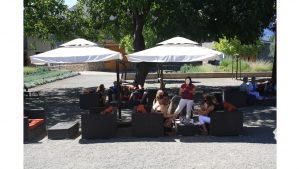 Enjoying an outdoor wine tasting at Paraduxx.
The people at Paraduxx want to make visiting their winery a fun experience.  Of course, they want you to come and taste their wines.  But they'd also like you to bring your kids and your dog. (Both need to be well-behaved but only fido needs to be on a leash).  They invite you to relax under trees or umbrellas in their courtyard or on their veranda and stay a while. [Our description of Paraduxx is based on pre-Covid experience.  We sincerely hope that this, like so much else, returns to the way it was in before times.  Today, dogs are still allowed, but no person under 21 years of age.]
The setting at Paraduxx would seem to lend themselves to people who are more interested in a pleasant day out, including good wine to be sure.  A picnic would be perfect, but Napa County's rules limit the number of wineries that allow picnicking.  However, they do sell plates of charcuterie.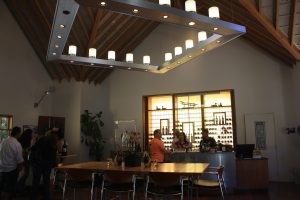 The tasting room at Paraduxx.
The sort of experience offered at Paraduxx may not be to everyone's tastes.  For our part, we never bring children or pets with us and our objective is to gain a serious understanding of the wines offered by each producer we visit.  And for those like us, you can enjoy wines outdoors or in the winery's well-appointed tasting room.
One tasting feature we like at Paraduxx is that they pour you glasses of all the wines on offer, provide you with tasting notes and then they leave you alone to enjoy them.  A server will stop by periodically to answer any questions you may have.  He or she usually uses the occasion to urge you to stay a while.  There is, however, a feature we are not as fond of.  They ask you to pay for your tasting as you enter, before tasting their wines.  Of course, we recognize that wine tasting in Napa Valley is a commercial enterprise, but it still feels wrong to ask you to pay ahead of tasting and it leaves a bad impression.
The fun atmosphere at Paraduxx does not preclude serious wine tasting.  Come try their rather individualistic wines and have some fun too, if you wish.