Let's suppose that you are in Paris, perhaps on business.  You have no time to leave the city, so even though you're in France, you will have no opportunity to go wine tasting.  You have that old "so near but so far feeling".  Fear not, redemption is at hand.
We'd like to point out to you a chain of restaurants called L'Ecluse (http://www.lecluse-restaurant-paris.com), which means the lock, as in a lock on a canal.  (To be honest, we only tried the L'Ecluse alongside the Madeleine church in the 8th Arrondissment.  There are also sister locations in on rue Francois 1ier also in the 8th, St. Honoré in the 1st, in the 17th not far from the Arc de Triomphe, and along the Seine in the 6th.)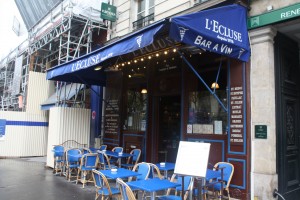 L'Ecluse restaurant, near the Madeleine in Paris
We at Power Tasting are not in the business of restaurant reviews, so we will only note that you can get a meal at L'Ecluse from a limited menu long on Bordelais cuisine, especially sausages and patés.  In nice weather, you can sit outside, which is generally a pleasure anywhere in Paris and particularly so in the better neighborhoods.  All the L'Ecluse restaurants are in better neighborhoods.
The reason for avid wine tasters to go to these restaurants is the wine.  If you love Bordeaux wines (and which wine lover does not?) this is your chance for sampling a wide variety of wines from that region while still in Paris.  What part of Bordeaux do you like the best?  Margaux?  Got it?  Paulliac? Got it.  St. Emilion? Got it.  Get it?
Perhaps the most fun is to try wines from sectors you're not as familiar with, such as Lalande Pomerol or Listrac.  The good news, especially if you're visiting as a couple, is to try a few things previously unknown to you and then follow them up with your favorites.  We noticed something interesting: we each ordered wines we particularly liked, shared sips and found that we liked what the other had chosen better.  Isn't that what wine tasting is all about?
Not sure what to order?  You'll find the manager (more so than the wait staff) very knowledgeable and willing to listen to you (in English or French), find out your tastes and try to match them.
As stated, we don't do restaurant reviews.  But here's a tip.  If you do visit L'Ecluse and if you do have a meal, finish it off with the chocolate ganache and ask for advice on the best Sauternes to go with it.  Believe us, you'll remember the experience.