There are many wines that show the skill of the winemaker.  There are only a few that demonstrate the artistry of a winemaker.  Today, especially in America, rich people or corporations own wineries; they hire winemakers.  It is difficult to be both an artist and an employee.
When a person owns the vineyard, makes the growing and harvesting decisions and then produces the wine, he or she has the means to express creativity, individuality and style in a bottle.  To experience such artistry, we recommend a visit to Domaine Paul Autard (http://www.paulautard.com/, in French only).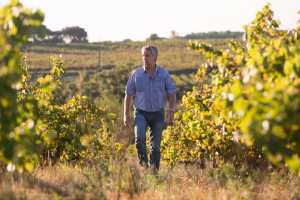 Jean-Paul Autard.  Photo courtesy of the winery.
The winemaker is Jean-Paul Autard; Paul was his father.  Jean-Paul took over in 2005 and the vineyard was soon mentioned among the best of Châteauneuf du Pape.  Today, Autard makes four Châteauneufs: a white and three reds, foremost among which are La Ronde and Juline.  There is also a Côtes de Rhône and, true to tradition, some local wines unavailable in North America.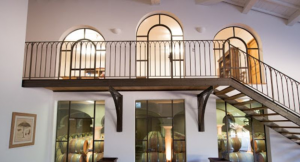 Interior of the winery.  Photo courtesy of the winery.
The Domaine is not actually in the town of Châteauneuf du Pape but just outside it in a hamlet called Courthézon.  It's not hard to reach, just a short drive away from the main town.  In our experience, the winery is nothing like what we Americans are used to.  It's a large farmhouse, where Jean-Paul and his family make, store and sell wine.  It is not set up for visitors in the way we find in California, although you can expect a pleasant welcome.  When we visited, it was Madame Autard who welcomed us and chatted amiably with us (in French, of course).  After a tasting, we asked some rather specific questions about the winemaking technique and distribution back home, so she called out "Jean-Paul, please come.  We have visitors."
We then had an interesting conversation and offered him to visit us when he was next in New York (an offer never taken up, alas).  It was not so much that we had a unique experience (although we did) but rather that the man is as approachable as is his wine.  We make no guarantee that you will have a similar experience if you should stop by, but we do think you will enjoy the wine.
Domaine Paul Autard has been making wine since 1924, a talent passed down through the generations.  This continues today.  Jean-Paul is communicating to his children, Jules and Pauline, "une somme précieuse de connaissances, d'observations et le travail de la vigne" ("a precious sum of knowledge, observations and work in the vineyard").  The winery's flagship wine is Juline, derived from his kids' first names.
When we visited, the Autards gave us a corkscrew with the Domaine's name and logo on it.  To this day, we use it to open his (and other people's) wines.  Each glass of Paul Autard comes with an extra dollop of memories.